By David Jacques
contributor
Traveling alone is a wonderful thing. You get to do, see and eat what you want, when you want to do it. You can travel at your own pace, and spend as much or as little time as you want at any destination. But truth be told, nothing beats a little companionship—and a good experience becomes a great experience when you can share it with a friend.
There's a great Will Rogers quote that says, "Strangers are just friends I haven't met yet." And whether you are traveling alone by choice, by default or even for business—applying Rogers' mentality can be a very rewarding thing.
So, what are some of the best or most effective ways to connect with friends-to-be while in a strange or unfamiliar land? Put these tips to the test:
1. Grindr. Yes, Grindr is an infamous gay meeting application, but it's also a great way to connect with people in your geographic vicinity. The free app is location based, and you'll be able to check out the nearest 100 gay men. It's popular all over the world, including London, NYC, Sydney, Tokyo, Paris and Melbourne. Grindr is available for Android phones, BlackBerries, the iPhone, iPad and iPod touch. There's even a straight and lesbian version!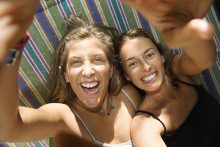 2. Smile. There's nothing fancy or high-tech about it. A little smile goes a long way—it will make you infinitely more approachable (and even a bit sexier, too). It takes only a few seconds to put one on, but it's a friend magnet like no other.
3. Use the Internets. Like Grindr, not everyone online is looking for a fling. Find out which gay website is popular in your destination, and post a profile a few weeks before you travel. Make your intentions clear, and watch the bites come in. Moreover, connecting with locals is one of the best ways to travel off the beaten tourist path and get a real feel for the city. Of course, be careful!
4. Hostels. You might think you're a bit too fancy to kick it in a hostel, but… they are teaming with other travelers and possible acquaintances. Moreover, many hostels offer privates rooms—so you can still mingle with other travelers while maintaining your own space. And yes, there are even gay hostels. Even if you don't want to spend your whole trip in a hostel, try booking just a night or two to meet some new friends.
5. Volunteer. Search online (or ask around) for volunteer opportunities. When in Toronto, I saw a Craigslist post for a soup kitchen in need of a few extra hands. They didn't care that I was just passing through—they were happy to have the help. And I was able to make a few really amazing, open-minded friends in the process. Plus, it's totally good for the soul.
6. Talk. If you're looking to make friends, shy isn't going to cut it. Engage people in conversation (most people love talking about themselves) even if it means breaking out of your shell, and see where it goes. Visit some of the local gay hangouts, pubs or coffee houses and chat it up. Don't be afraid to ask someone if they want to grab a meal—the worst thing that can happen is that they'll say no. The best thing is that you'll make a new friend. The risk is definitely worth the return.
7. Take a tour. If you're concerned about not knowing anyone in a strange land, packaged tours are great options. Making new friends with your companions is inevitable, and there are a number of tours that cater to gay (or gay-friendly) clientele.
Wherever you are in the world, I'm sure you're just a smile or click away from making a new best friend. So instead of spending the night downloading episodes of Glee, get off your butt and put these tips to the test!
Join the conversation