Your Name: Robert (Bob) Glock
Job Title: GM for Hotel Brexton and also Adjunct Professor, teaching Entrepreneurship, Business and Algebra.
Washington D.C. and Philadelphia may be the go to spots for a history lesson on the United States, but people might be surprised to learn just how much of our country's history stems from Baltimore. It's also a great place to dine, to sightsee, and to experience some incredible nightlife. Bob Glock, General Manager of the historic Hotel Brexton, gave us a taste of his city (specifically the Mount Vernon neighborhood) and makes a compelling case for why you should add Baltimore to the top of your travel itinerary.
Twitter: twitter.com/RobertGlock and twitter.com/hotelbrexton
Instagram: instagram.com/bob_glock
How long have you lived in Baltimore? I was born, raised, churched, educated and employed in Baltimore for the majority of my life!
What's special to you about Baltimore? Why have you stayed? Baltimore is a city that you might associate with its historic neighborhoods, world famous medical schools, and busy harbor, but there is also an unexpected and often overlooked side to the city. Baltimore is full of unexpected histories and unusual sights, and it is this unique set of attractions that has been bringing a growing numbers of tourists into the city. I returned to Baltimore in order to take on the role of GM for Hotel Brexton, the amazing 29-room boutique castle-like 1881 Queen Anne hotel that is situated in the heart of the ArtBeat of Baltimore's Mount Vernon neighborhood.
What's your favorite thing about Baltimore? What makes it stand out? Baltimore is a culmination of ethnic and historic neighborhoods, each with its own personality. For history, culture & diversity, Mount Vernon is its gem because it is the birthplace of the LGBT movement in Baltimore and home to the Baltimore Symphony, Center Stage, the Lyric Opera House, Eubie Blake National Jazz Institute, many of the best theatre companies in Baltimore, museums, restaurants of every cuisine, night life, shops, Antique Row, cathedrals, universities including MD Institute College of Art, and Baltimore's Washington Monument. A visitor can park the car and spend a week exploring the neighborhood on foot, or use the City Circulator Bus System, Light Rail (N Balto County Malls to BWIA) or Penn Station to branch out. Its Center City location sets Mt. Vernon minutes from the Harbor, National Aquarium, Science Center, Camden Yards, Ravens Stadium, the Baltimore Convention Center, and a host of historical and cultural attractions and points of interest. Baltimore is the perfect hop from NY, Philly, DC or abroad.
Favorite restaurant? That's a tough one because Baltimore has such a wide array of options. Literally there are about 50 or so phenomenal independent restaurants in the Mt. Vernon neighborhood, including Ethiopian, Indian, Thai, French, Japanese, Chinese, Afghan, Vegetarian, Vegan, Italian and naturally New American. Little Italy, east of the harbor, has incredible restaurants that have been in Baltimore since its beginnings. The harbor area has some of the big names like Hard Rock Cafe, Woodberry Kitchen and The Charleston Group. That said, my typical "go-to" is City Cafe and my three favorite international restaurants are Nepal House, Thai Landing and Marie Louise Bistro. Sorry... too hard to pick one! These are all in Mt. Vernon, but each neighborhood has its own fun spots!
Favorite bar/club? Club Hippo is Baltimore's iconic gay bar and dance club and has been the neighborhood favorite since opening in 1972. However, it is likely to close soon and the Baltimore Eagle is planning to reopen a few blocks away. But I would have to say that Grand Central is my pick. Don is very creative and has created a gay/alternative club complex that has something for everyone. There are several bars and different offerings each night of the week.
What three things do I have to pack to enjoy your city? Pack comfortable walking shoes because there are so many things to see and do, a camera unless your phone does a good job for you, and an administrative assistant to deal with distractions; but leave her at home so that the distractions don't get in the way of opening your mind to unexpected history, architecture, culture and charm! Literally you will not run out of things to do in Baltimore.
Best time of year to visit? Summers in Baltimore can be humid, though there is often a breeze even in August. Baltimore has the typical four seasons; Spring is probably the best pick, but I love it any season.
I'm in town for 24 hours: What are 3 things I absolutely have to do? 1. Theatre: We have so many options, including the Hippodrome, Everyman Theatre, Center Stage, Spotlighters, Eubie Blake, Lyric Opera House or Chesapeake-Shakespeare; 2. Dinner at one of the hundreds of options available to you, from high end to a fun neighborhood dive; 3. Accommodations at a charming, historic Baltimore hotel where you can experience the beauty and true feel of a thriving City with a story that touches almost every segment of American history. My choice, naturally, is Hotel Brexton! Those three decisions will open up the rest of your trip to far more than three must-do things.
What's something people would be surprised to learn about your city? There is more history in Baltimore than DC and Philly combined. Baltimore is the home to the Star Spangled Banner, a circa 1815 George Washington Monument, Fort McHenry. Google Baltimore History and you will be amazed - even if you are not a history-buff! And the history continues. Baltimore is NOT Homicide and The Wire; Google "TV shows filmed in Baltimore" and you will be equally impressed.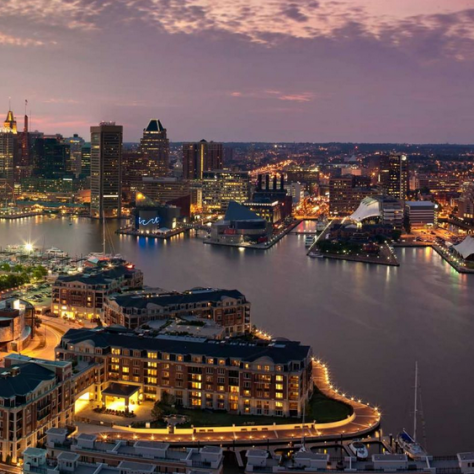 Join the conversation
You Might Also Like