This past week in Berlin was Fashion Week, which basically means lots of beautiful people tramping around the city, the occasional free drinks and lots of parties (par the course for Berlin).
The last weekend of the international trade show & exhibition kicked off with several Friday night events, one of the more fun ones being Rock Fashion Night. The party was open to the public but had an extensive guest list of VIPs including the quintessential German rock band Rammstein. (Have you heard of them? If not, look 'em up.)
Inside the club, the crowd was unpretentious even though everyone looked like they'd tried especially hard to pull off the "rocker chic" look. I decked out in my most amazing (ie, cheap) hipster clothes from a little clothing shop called H&M. But seriously, the folks inside and in the crowd were friendly and fun. And hipsters!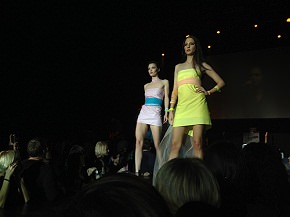 We watched the few guys & gals walk down the catwalk from the sidelines. The best views weren't necessarily of the clothes and the models, but the hot boys & girls in the crowd. Most people were rocking out to the live music (two German &/or British indie bands) with plenty of people in the crowd dancing. Just a typical night out in a club in Berlin, this time with relatively attractive models parading between the club-goers.
And though the heavily-made-up presenter of the fashion event tried to persuade the crowd to party till 5am (DJ Rob Holliday from the Prodigy played the after-party), shortly after the models finished their walks the crowd thinned. The music was good, though, but on a Friday night in Berlin, there were more clubs to move on to…
More info about the event: http://fashion-rock-night.com/about
Read more from Arts and Culture
Learn more about the Adam's travel site http://mygaytravelguide.com/
View More Arts and Culture Articles
Join the conversation