Meryl Meisler is a photo-based artist. She has received fellowships/grants from New York Foundation from the Arts, Time Warner, Artists Space, CETA, China Institute and Japan Society. Meryl's exhibited her work at the Brooklyn Museum, New Museum, Dia Center NYC, MASS MoCA, and The Whitney and in public spaces such as Grand Central Terminal and throughout the NYC subway system. Her work is in the permanent collections of the Brooklyn Historical Society, Library of Congress, Islip Art Museum, American Jewish Congress, and in artist book collections of the Whitney, MOMA, Metronome, Carnegie Mellon, Chrysler Museum and the Pompidou.
Meryl Meisler is the Art Education Field Supervisor and Adjunct Instructor at New York University Steinhardt School of Culture, Education and Human Development Department of Art and Art Professions. She retired from a 31-year career as national award winning NYC public school art teacher of traditional and digital media. Born in the Bronx and raised in Long Island, daughter of a commercial printer and employment counselor, Meryl was valedictorian majoring in Art Education and Buffalo State College but scared to teach. After earning a MA in art from University of Wisconsin at Madison, Meryl became a freelance illustrator- specializing in nature and children's literature. For want of a steady income and benefits, she became an art teacher and in time adopted it as her chosen creative profession. Meryl serves on the board member of Art and Science Collaborations, Inc. (asci.org) and is a long time member and former Co-VP of Professional Women Photographers (pwponline.org)
Meryl's particular series Here I Am: Bushwick In The 1980's is a documentation of a disparate decade of a neighborhood in which she taught. She is proud to be one of countless LGBT people who are artists and/or have served our society as educators. Throughout most of her adult life and right from the beginning of her teaching career he has been out to her family and friends. However, in the 1980s Meryl was selective about sharing her private life with the larger school community. She explains that "as educators, we strive to help all children. To this day- some of the children, who are now LGBT adults, have stayed in touch and thanked me decades later for the open ear, mind and advice I gave them when they were adolescents".
Meryl's work, as an artist and educator, began to serve the LGBT community best when she finally came out to my entire school community. She, along with all of her school colleagues at The Institute for Collaborative Education, had a coming out day not long after Ellen DeGeneres announced "Yup, I'm Gay". Gay, straight or questioning- the entire staff organized coming out day activities and Teach-Ins, coordinated with the PTA. They brought in guests from GMHC and LGBT youth groups. Those of the participants who were lesbian or gay spoke openly about who they were. From then on when Meryl heard a student making snide gay jokes or remarks, she let them know that not only was derogatory language intolerable in her classroom (as she said even when she was a closeted teacher); it was personally offensive and hurtful to her as a lesbian and to all the other children who have LGBT family and friends. That was that.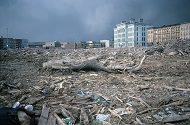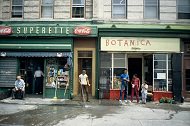 To catch some of Meryl and her work in person, go to her exhibit Here I Am: Bushwick in the 1980's by Meryl Meisler from December 7- December 31. The Opening Reception is on Thursday, December 8 from 6-8 PM. A Gallery Talk: will be held on Thursday, December 22 from 7-8 PM. General gallery Hours are Wednesdays through Sundays from 1-6 PM. Also, visit Soho Photo: 15 White Street, NY, NY 10013, located 3 blocks south of Canal St. between 6th Avenue and West Broadway. Soho Photo can be accessed online at http://www.sohophoto.com/. Meryl's work can also be found online at www.merylmeisler.com.
Meryl Meisler's interview with NBC Senior Correspondent Gabe Pressman:
Bushwick: Brooklyn's Newest Frontier
Favorite LGBT bar/club in New York City: I love to go singing at NYC's piano bars- The Duplex and Marie's Crisis.
Favorite thing to do in New York City: I refer to NY as my magic city. At every turn you see amazing people, places and incredible things going on. The best way to see it is on foot and keep your eyes and mind wide open. Boredom is not an adjective for my magic city. Why go to a big box store or chain restaurant? NYC is full of one of a kind stores and inexpensive great restaurants and diners featuring local and worldwide cuisine. Wander down 2nd Avenue below 14th and there are dozens of great small places like B&H Dairy on 127 2nd Ave for hot borscht soup & pierogi, In my neighborhood, Chelsea, try the Shanghai Soup Dumplings at Grand Sichuan 229 9th Ave., my Uncle Louie's favorite spaghetti & meatballs at Pepe Giallo 253 10th Ave., and at 334 8th Avenue - Kofoo take out Korean or chopped salads and latte at the Brown Cup. Find a creative souvenir at New York Central Art Supply- www.nycentralart.com their paper department has gorgeous samples from all over the globe. Bring your international passport and plane tickets to Macy's or B&H photo/video and they will give you a free welcome gift.
Insider's tip about New York City: There are free and inexpensive events going on every day. Check Time Out, Village Voice, the visitors bureau or google free and inexpensive to do in NYC's The first Thursday of the month is filled with gallery openings, great for people watching. All of the museums have free days or nights- the restaurants in the museums are terrific too. On the first Saturday of every month, the Brooklyn Museum has a fabulous free night of arts, culture, and entertainment. If you are affiliated with a school or university, bring ID and ask about reduced admission. For the big tourist things (which even a life long New Yorker loves), buy your tickets online first to spend less time on line. Of course you want to go to the theatre! Don't wait on long lines at Times Square TKTS booths- go to the booths at the South Street Seaport or in downtown Brooklyn. There are student rush, lottery and standing room only cheap seats to most plays- http://www.playbill.com/celebritybuzz/article/82428-Broadway-Rush-Lottery-and-Standing-Room-Only-Policies
Avoid the rush and lines altogether, join TDF.org to get often less than half price theatre and concert tickets before you come to NYC. Here's a link to see if you qualify: http://www.tdf.org/TDF_ServicePage.aspx?id=59
While uptown, you can see my permanent installation at Columbia University's Social Work Library, 1255 Amsterdam Ave. @ 116th Street. One of the 4000 posters that were installed throughout the subway system in 2001 is displayed in the A train elevators at 181st Street. The edition is sold out but you can see it here: http://www.mta.info/mta/aft/posters/posters.html?year=2001&poster=38
If you are in search of a spiritual uplift- come to Congregation Beth Simchat Torah's Friday night or especially on the high-holiday services. You don't have to be Jewish or relate to any religion to enjoy the music and politically positive pride in a welcoming community. www.Cbst.org
NYC is filled with people who have no sense of direction, especially since we lost our Southern Navigation Star- The Twin Towers. Don't be shy to ask for directions on foot or on the subway. New Yorkers are friendly, sometimes we just don't know which way is up but we won't lead you astray- just tell you to ask someone else.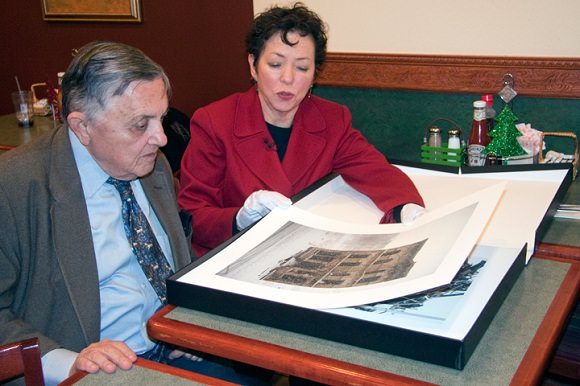 Join the conversation