Less than a half hour south of San Francisco aka "gay Mecca" is Half Moon Bay. The city sits between forest-lined hills on the Pacific Coast.
The town began as an agriculture area used for grazing of cattle, horses, and oxen. Much of the rural unspoiled beauty remains today.
If you're looking for respite from the hustle and bustle of the Castro, Half Moon Bay is the perfect destination. Downtown you'll find quaint shops, art galleries, amazing restaurants and great hotels.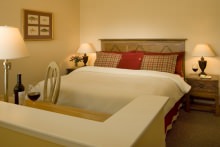 The Beach House Hotel is one of the most popular properties with LGBT travelers in Half Moon Bay. This is the ideal place to stay if you're looking for incredible views of the Pacific Ocean and Pillar Point Harbor. Step foot into this spacious hotel and you'll find a beautiful fireplace and friendly staff that will instantly make you feel right at home.
We serve as a great spot for a romantic getaway or corporate retreat," front office manager Leigh Hurley said. "What really what makes this a remarkable property is the location. You're in striking distance of the big city but the fun of coming to Half Moon Bay is that it's a break from the chaos of the real world."
For gay and lesbian couples looking for a romantic getaway, there are 54 spacious loft suites that will definitely fit the bill.
"Our major claim to fame, other than our location, is our rooms," Hurley said. "We have junior suite environments throughout the hotel. They're about 450 square feet, decked out with all of the amenities you would ever need, including a fireplace, flatscreen TVs and free internet access."
You'll love your room, but you won't want to stay inside the entire trip. Half Moon Bay is the perfect locale for outdoor enthusiasts. If you love hiking, running or just sightseeing, you definitely won't be disappointed.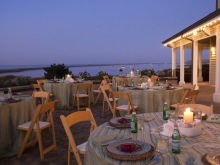 "All in all, it's a true escape," Hurley said. "There are activities nearby, jogging, kayaking and horseback riding. It's like being in another world."
Half Moon Bay is a small, tight-knit community. The town may not have a designated gayborhood but there are great pubs and wine bars providing no shortage of opportunities for out of towners to socialize. There are also wine and cheese receptions every weekend at Beach House Hotel.
If you're looking for a relaxing getaway and want to stay at a beautiful property with the best staff in the business, look no further and book your stay at Beach House Hotel today.
READ ALSO:
San Francisco: Mutant Utopia of the Queers
Why I Will Keep Visiting Monterey Until I Die
Join the conversation