By: Kylie Condon
With over 4,000 people in attendance this year, the 2nd annual ClexaCon was a success to say the least! The sold out event drew a diverse crowd with queer women and allies from 45 different countries that took over Las Vegas. ClexaCon had everything from vendor booths showcasing talented publishers and artists to plenty of meet-ups and parties. Not to mention, lots and lots of cosplay.
The main highlight of the convention was definitely the panels. Actors, creators, and fans alike roamed around the Tropicana from panel to panel getting a behind the scenes look at their favorite LGBTQ+ shows, topics, and organizations in the entertainment industry. There were too many amazing panels to recap, but below are some favorites:
Creating an Original Web Series
This panel proved to be useful in a climate where it's difficult to get queer shows made, particularly shows that have more than one LGBTQ+ character. Panelists, all seasoned web series veterans, encouraged the audience to truly be the change they want to see in LGBTQ+ entertainment. AKA, make your own content. The panel went on to discuss everything from what to cut in a budget to what the best method of distribution is. Overall, the informative panel left audience members encouraged and inspired.
One Day at a Time

This was a very popular panel with the Peabody-nominated show and the jam-packed audience spoke to that. The panel was comprised of actor Isabella Gomez, who plays Elena Alvarez on the show, as well as Executive Producers/Showrunners Gloria Calderon Kellett and Mike Royce. It was exciting to have the creators of the show present and really give insight on what went into the making of such a groundbreaking character and series. One Day at a Time has proven to not only be a trailblazing show for the LGBTQ+ community, but for the Latinx community as well. The panel gave fans a nice little taste of what's to come as we all eagerly await season 3!
Shethority
This was a panel on the charity campaign started by actresses from the "Arrowverse" i.e. Supergirl, The Flash, and Legends of Tomorrow. The organization aims to empower women through shared stories, support, and inspirational guidance. Speaking on behalf of the organization was Chyler Leigh, Caity Lotz, and Maisie Richardson-Sellers. The women described their big plans for the future of Shethority which includes a website where readers can share uplifting, personal stories.
ClexaCon's Future
Overall, it was encouraging and inspiring to see where the community stands in the entertainment industry. Beyond that, it was great to have an environment where you could actually mingle and have meaningful conversations with other queer women versus trying to yell over the sounds of a DJ and drunk people. Not that there's anything wrong with a good party, but it's nice to have an alternative space for LGBTQ+ women and allies.
If you missed ClexaCon 2018 or are counting down the days until next year's, stay tuned for ClexaCon 2019 dates. If you can't wait until then and want more ClexaCon action, be sure to check out the pop-up event in London this November 2-4. They just announced their first guests (Natasha Negovanlis and Elise Bauman of Carmilla) and many more are to come!
You can also check out some 2018 panels on ClexaCon's youtube page. See you at the next Con!
**To follow Kylie and see more travel photos, follow her on Instagram @lezexploreinsta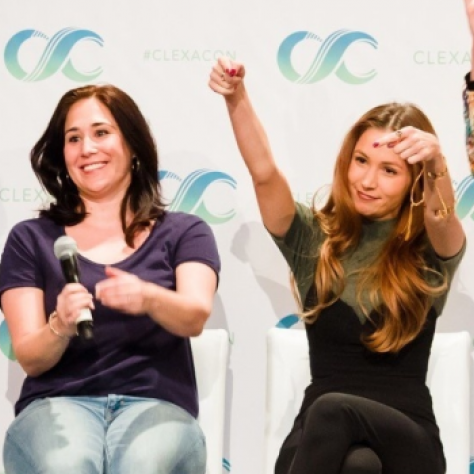 View More Event Spotlight Articles
Join the conversation