It's the third full day of my Thailand trip. I'm still in Bangkok and doing some reporting for gaytravel.com, and we've seen so much of this incredible city.

When I first arrived, I mentioned how surprisingly western things seemed to be. And indeed, the hotel in which I'm staying could hold its own in New York or London. But when we left the confines of our accommodations, it was a whole other world.
On our first day, we went to a flower market and then visited a few different temples. I've never seen so many Buddhas in my life. There must be more temples in Bangkok than Starbucks in Manhattan. The reclining Buddha is in a temple called Wat Phra Chettuphon Wimon Mangkhlaram Ratchaworamahawihan (yes, that's really its name) and measures some 141 feet long. That's a lot of Buddha.
That night, we went to a bar called Vertigo on the approximately 100-zillionth floor of a fancy-pants hotel called the Banyan Tree Bangkok – and then capped the evening off with a dinner cruise.
On Day two, we visited the bridge on the River Kwai – which was made famous in a 1957 movie by the same name. During WWII, the Japanese constructed a railroad through Thailand resulting in more than 100,000 deaths by workers and prisoners of war. The bridge that we visited is the most famous crossing of that railway.

We then hopped on the train and met some adorable Thai children, pictured below.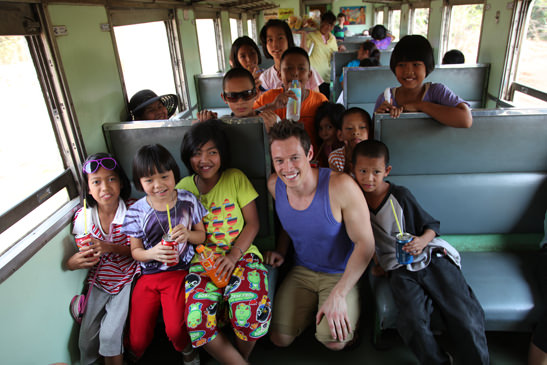 I've never had so many people take my picture in my entire life. At first, I thought that they might read my blog or watch my YouTube videos – but then I quickly put my ego aside and realized that they were merely taking pictures of me because I'm white. It feels a bit like being an exhibit at a zoo.

Tomorrow, I'm leaving Bangkok and the Hotel Muse and heading to the Four Seasons Chiang Mai. Rumor has it that I may be seeing some elephants in the near future – so stay tuned! And I'm going to be uploading a video about a hysterical conversation that I had with my mom about the so called "lady boys" of Thailand. It's a classic.
Davey
Read more from my Travel Blog
View More Davey Wavey Travel Blog Articles
Join the conversation