Highlights from the LGBTQ+ women's party and festival in Palm Springs!
By: Kylie Condon
Day 1
It was the last Friday of March, which meant Dinah Shore Weekend was finally here! I had an Airbnb booked with some of my favorite friends and my car loaded up with enough vodka to satisfy a small Russian town. Unfortunately our road trip to the Dinah got off to a rough start when my car's engine light went off. Our handy lesbian skills were put to the test with how to fix it, but then I realized I don't have those so caved and took my car to a repair shop. About an hour and a few replacement car parts I don't know the name or point of later, we continued on our way to Palm Springs. Shout out to Michael at Variety Motors for hooking it up!
Once in Palm Springs, we quickly checked into the Airbnb, grabbed some to-go drinks, and headed for the pool party. We only caught the tail end of the event, but the party was still going strong. The Hilton was packed with queer women inside the pool and out dancing to Snow Tha Product's performance. If dancing was less your thing, there were also plenty of cool vendor booths to explore. However if you explored some of the alcohol booths, I'm sure dancing became more of your thing. And like every good gay lady party, you could even try your shot at arm wrestling! After a few drinks and feeling sufficiently sunburned, we headed back to the Airbnb to prep for Friday night's event.
Back at our home base, the rest of our group had finally arrived after sitting in hours of Friday traffic. We all hung out by the pool and got ready for the night ahead. The Friday night event was the 50 Shades of Pink Party, so I conveniently didn't even have to dress up for it thanks to my new sunburn. Once we were ready to go, we headed to the Palm Springs Convention Center. Badge pickup was seamless and obtaining beverages was fairly easy once you purchased drink tickets. There was a pretty good turnout that night with some iconic "celesbians" walking the red carpet and a performance by Madame Gandhi. After some people watching and dancing, we decided to head back to our Airbnb for the night. Mostly because we realized we forgot to eat... rookie mistake.
Day 2
We all woke up, some Dinah veterans a little less hungover than the newbies. After some food and coffee, we were determined to get to the pool party on the early side. We put on our finest pool wear (and I loaded on the sunblock) then headed for the Hilton. Saturday's pool party was even wilder than the day before with an even bigger turnout. We indulged in the Tito's photo booth and Tito's in general. Performances by Ariana & the Rose and Brooke Candy kept the party going. There were even meet and greets with iconic LGBTQ+ actors and a fashion show. After we soaked up the appropriate amount of sun and alcohol, we headed back to the house to get ready for the night's festivities.
Unfortunately we missed the Dinah Comedy Show due to some major power napping, but word around Dinah reported that it was great. Once we were ready and caught our second wind, our group headed back over to the Convention Center. The party was pretty much the same as the night before so after catching Jessie Reyez's performance, we decided to explore the rest of Palm Springs. We grabbed a Lyft over to Toucan's Tiki Lounge, one of my favorite Palm Springs gay bars. The tiki-clad bar's dance floor was full of LGBTQ+ persons and everything in between. Definitely a fun time with go-go's, cheap drinks, and great music. After shutting the bar down, we continued the party at our place… probably a little later than we should've.
Day 3
It was Day 3 and we all had the Dinah shakes, but knew we had to push through and enjoy our last day in gay lady paradise. "Happy Easter!" we toasted as we sipped whatever miscellaneous alcohol concoctions were leftover. We pulled ourselves together and headed to the final pool party. It was our last day of Dinah Shore Weekend so we had to make it count! At the pool party, we discovered you could purchase giant buckets of beer to avoid constantly getting in long lines for alcohol. This was a game changer, but depressing to only discover on our last day. We enjoyed our beer bucket as we watched various DJs perform and attendees Sunday Funday their hearts out. Learning our lesson from the day before, we left the pool party before it got too late (i.e. before we got too drunk) so we could make it to that evening's party.
The final Dinah event was the closing party at Zelda's Nightclub. It was a cool change of scenery to see all the Dinah ladies take over. There was plenty of dancing, last minute hookups, and a performance by Alsace. Definitely a satisfying end to the weekend. And with that, Dinah Shore Weekend 2018 was sadly over, but left us with plenty of time to recover for next year.
In short, if you've never been to the Dinah… you gotta go. And if you have been to the Dinah before, go again. It's never a disappointment!
To follow Kylie and see more travel photos, follow her on Instagram @lezexploreinsta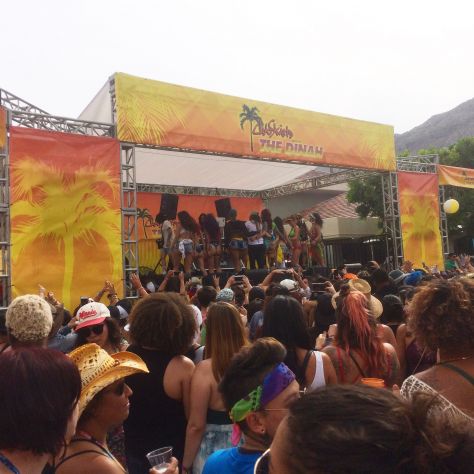 Join the conversation
You Might Also Like