UPDATE: Watch the first episode of "Gaycation" online for free here.
Since coming out of the closet publicly at a Human Rights Campaign event nearly two years ago, Oscar-nominated actress Ellen Page has made it a point to advocate for gay rights any time she has a platform.
Her latest effort is Gaycation, a new travel documentary series coming in February to the new network Viceland.
Page introduced footage from the gay travel series at a Television Critics Association panel last week. Included in the footage is an encounter between Page and an antigay cop in Brazil who has admitted to killing gay people.
"I want to say I'm gay [to the cop], do you think it's safe?" Page says to her travel buddy and friend Ian Daniel in the clip. She tells the cop, and then asks him if he thinks the world were better off if she were dead.
"Of course there's a nervousness," Page told the panel. "There's a nervousness driving there. It was probably one of the more scary, nerve-wracking moments I've had …. I feel like when we're in that mode, we probably feel, maybe in a naive way that it' all going to be okay."
Daniel said he felt similarly.
"A person who is standing in front of you is saying I've killed people like you, I'm going to do it again, and there are other people like me who are killing people like you … It's scary in that it's just hard to hear."
The series also features footage of the Juno star and Daniel traveling to the Iowa State Fair. Last year, Page made headlines when she confronted anti-gay GOP presidential hopeful Ted Cruz at the fair.
Footage from the series can be seen in the video below.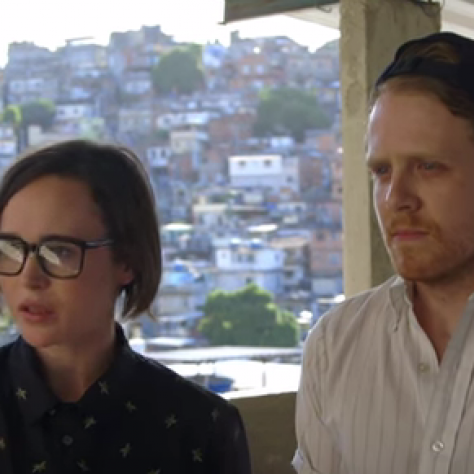 Join the conversation