In honor of Pride season, we got the inside scoop about the best that Montreal Pride has to offer this summer! Below is our exclusive interview with Montreal Pride.
GT: How long has Montreal Pride been around, and how did it start?
MP: Since 2007, at the initiative of Montréal's LGBTQ+ communities, the Montréal Pride Festival has promoted their rights and celebrated their cultural wealth and social advances.
GT: What are some highlights from Montreal Pride's past?
MP: The largest gathering of the communities of sexual and gender diversity (SGD) in the Francophone world works locally on a daily basis while serving as a beacon of hope for people living in LGBTQ+ hostile regions of the globe. In 2017, the festival generated a total attendance of 2.7 million visitors. Last year, we held the first Canada Pride edition, with a National Conference about the communities of sexual and gender diversity (SGD).
GT: What are some highlights that this year's festival goers can expect?
MP: 11 Free show – One venue: the Parc des Faubourgs – 1 outdoor stage – 1 indoor stage – 8 days of celebrations – The biggest edition of Drag Superstars shows, with Bianca Del Rio as a host and 12 RuPaul's Drag Race queens – A program with plenty of headliners – The biggest lineup ever for Montréal Pride – A majority of feminine representation in the program
GT: How does Montreal Pride contribute to the LGBT event scene in Montreal, and how is it set apart from other events there?
MP: We contribute to the LGBTQ+ communities by inviting them to participate for free at the Community Day and the Parade. Also, Montréal Pride leaders travel annually to a country considered "hostile" to sexual and gender-diverse people to support activists working in the field, and to offer a helping hand when asked by local community leaders. They met Kennedy Orlango, of the Man Against Aids Youth Group organization, at an InterPride conference in Indianapolis in 2017, and following several exchanges, selected Kenya as a destination. Kennedy will be one of the co-chairs of the Montréal Pride Festival this year.
GT: When they aren't attending Pride, what is the best way for festival goers to experience gay Montreal?
MP: Visit the Gay Village, with plenty of clubs, pubs, bars and specialty establishments. Enjoy every Aires Libres activities and events.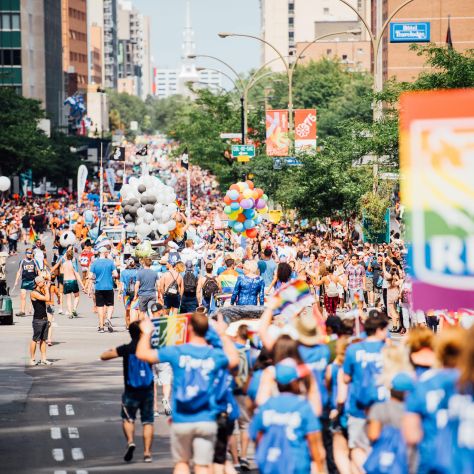 View More Event Spotlight Articles
View More Interviews Articles
Join the conversation
You Might Also Like