I started in the world of gay travel 30 years ago this August. I learned quickly that, in those early years, there were a group of LGBT allies in the travel industry that were willing to take risks to ensure that we succeeded. Our Industry Ally column will feature LGBT allies in the hospitality industry that don't just work to make a better travel experience – but work every day to make the lives of the LGBT community better. This column is dedicated to Arne Egeland of Royal Olympic Cruise Lines who made a difference when we all really needed it.
Charlie Rounds, Editor, GayTravel.com
GT: Please tell us what you do at Celebrity Cruise Lines.
Ron: I am the AVP of National/Strategic Accounts and Trade Relations. My sales team calls on all the consortias such as AAA, Signature, Virtuoso, Ensemble, etc and the top $ volume agencies in North America. For trade relations – I am our main contact representing us with the likes of American Society of Travel Agents, National Association of Career Travel Agents, Cruise Lines International Association, Association of Canadian Travel Agents, etc.
GT: Travel agents are still a very important part of buying cruises. Why is that?
Ron: They are massively important at Celebrity Cruises! The misperception out there is that people book on their own online – that doesn't happen with cruises, even the top Online Travel Agents have more than 85% of their bookings done speaking to one of the call center teams. There are some travel suppliers out there trying to sell more direct, Celebrity absolutely isn't one of them – we don't do all the massive national advertising like other brands, so we rely much more on the co-marketing and selling skills of the travel advisors out there. We feel it's best that an advisor speaks to the clients – listens to their desires and wants and then puts them in the right cruise for them. This is why Travel Agents can be a great resource for LGBT cruise passengers. And since our modern luxury brand is a wonderful fit for so many – they recommend us and have the assurance those guests will have the best vacation and come back to book through them again – preferably on a Celebrity Cruise!
GT: How did you become such a strong supporter of the LGBT community?
Ron: When I grew up my Mother was in a wheelchair because she had contracted polio when she was 15 years old - everywhere we went people made comments or watched and stared- she was different, and people treated her that way or ignored her. Fast forward to more present - my oldest daughter Chloe contracted type 1 diabetes and has to wear a pump and check her blood all through the day, people look her at treat her differently too because she is different. Needless to say, watching these two wonderful people my entire life made me so aware of anytime anybody was being treated differently, had comments made about them or were unsure where they fit in or not. This drove a passion in me to try and correct that for everyone who had experienced "fitting in" or not being able to be themselves - that's how I became such an advocate for the LGBT community. It saddens me to my core to see someone from the LGBTQ community feel like they may not fit in, not be included where they should be, or hear ignorant comments - we all should be treated equally with love and respect. I will fight for the community till that day where all this unfairness ends and pray it is in my lifetime and I have time to watch that happy time and smile broadly to know I made a small impact towards this great cause. And because of the many wonderful people I have met in the community such as Kelli Carpenter & Gregg Kaminsky of R Family, Randle Roper-Olson of Vacaya, Jill Cruse and Tisha Floratos of Olivia and my all-time favorite Charlie Rounds – I have naturally gravitated to making this one of my main areas I want to support and assist in any way possible. The overall feel I have from my interactions with the LGBT community is a passion for life, happiness and making people feel good about themselves.
GT: Celebrity is chartered by both Olivia and Atlantis – and you have a strong relationship with rFamily Vacations. That is a lot of brand loyalty from LGBT companies. Can you tell us a little about it?
Ron: As I mentioned earlier – the leaders and top people in those company are wonderful people who want the right fit for their guests and Celebrity absolutely is it – our modern luxury accommodations, amazing dining, great entertainment and service is a perfect fit. I think most importantly – our staff and officers on board during charters and group sailings have just loved and thrived on the happiness, fun and welcoming atmosphere the LGBT guests have shown onboard. The vast majority of the crew can represent 50 or more countries at one time and all have experienced not feeling included or people's poor misperceptions. The LGBT guests that sail on these large groups/charters show how everyone of all types can get along and look past everyone's difference. We have so many crew members that try to make sure their contracts occur during a charter with one of these companies because of the happiness they feel when on them with this great group of people – plus the guests tips well too!
GT: Celebrity has a very welcoming onboard experience for its LGBT guests. Could you talk more about it?
Ron: It starts from the top down at Celebrity with our amazing CEO/President Lisa Lutoff-Perlo – her passion that we all get along and "Sail Beyond Borders" being our tagline sets the tone for all of us shoreside and at sea. We sponsor Miami Pride – have probably the best float in the parade where singers/dancers from our ships perform and our stripes/Captain/Hotel Director, etc. march proudly and carry the flag! So onboard it starts with the 1st day when a guest enters the ship and in the daily program as well as on the event board we note a welcoming/gathering available for LGBT guests – usually in our top bar, The Martini Bar. For the rest of the week, our crew and staff are as welcoming as possible – because there is an authentic appreciation of all people. Everyone in our company has been trained/certified in WAYS Training - "The World at Your Service". We want our staff to be personalized, genuine and knowledgeable. We have won many awards from the LGBT community and I think the main reason is how inclusive our guests and crew are during the sailing. This is evident in that our marketing department doesn't just do images of gay couples alone in our marketing like most companies – we instead have so many of couples whether straight or gay together mingling and having fun because that's what happens aboard Celebrity Cruises – an inclusive environment we all seek.
GT: Can you give us one or two of your favorite places to visit with your family?
Ron: We did an Alaska Cruise on Solstice two years ago and my daughters loved every second of it. We aren't a big camping/nature family but were blown away by the amazing scenery and being able to enjoy it on our Solstice ship made it even better. But their favorite place by far is Cape Cod – because every few years many of our relatives all gather there and my girls just love being around family - a sad part of living in Miami and being originally from the North is that our closest family member to us in Pittsburgh, PA – so anytime they can experience our families it makes them the happiest.
GT: "Edge" will come out this fall. Can you tell us what you love about this new class of ships?
Ron: I get goosebumps every time I think it comes in a few short months! Solstice Class shocked the world, but the Edge Class will do even more than that. It starts the "Celebrity Revolution." After that launch, we will go back to all our existing ships and add many of the elements of Edge on to them and launch a new destination focused ship in the Galapagos, Celebrity Flora as well. The Edge shatters all expectations of cruise ships and is poised to change the way you experience the world. Every single design element has been taken to the leading edge of possibility and it will not only be the ship existing cruisers will gravitate to automatically – but we are finding so many of the new bookings are people first to cruise! We chose designers that did amazing things on land and they loved being able to do even more at sea. And acclaimed interior designer Nate Berkus was named as our Travel Ambassador for Edge. A shared passion for modern luxury, one-of-a-kind design, and global travel made Nate the ideal choice to deliver our message: that Celebrity Edge is the epitome of design excellence not only at sea but anywhere in the world.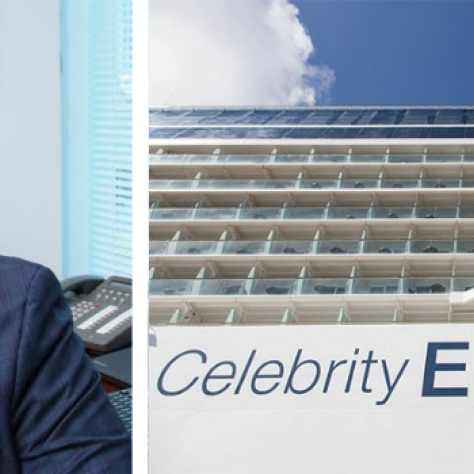 View More From The News Room Articles
View More Interviews Articles
Join the conversation
You Might Also Like