Your Name: Amanda
Job title: Concierge – Best Western Plus Inn of Sedona
The natural beauty of Sedona's red rocks might be the first thing that comes to mind when you picture the Arizona tourist hot-spot, one of the "Top 100 Places to Visit in the World." But there is so much more to this escape from the real world than natural beauty (although that's a big selling point). Amanda chose to make this beautiful oasis her home 21 years ago, and as the concierge for the award-winning Best Western Plus Inn of Sedona, she knows this city better than almost anyone.
Twitter for hotel: https://twitter.com/innofsedona
Pinterest for hotel: https://www.pinterest.com/innofsedona/
How long have you lived in Sedona?: 21 years
Why did you move there?: Chicago, while an amazing and diverse city, was crowded and had extreme seasons. Trading for crisp mountain air and abundant outdoor activities was a no-brainer.
What's your favorite thing about the Best Western Plus Inn of Sedona? What makes it stand out?: We have a choice location- perched up on a hilltop with amazing views. I'd say our terraces are our best feature. They offer incredible panoramic views on both sides of the property. They are the perfect place to unwind. Many of our guests choose to relax with a glass of wine as they watch the light play across the cliff faces.
Favorite restaurant?: There are so many awesome options, but I am partial to the Javelina Cantina. They also have a hilltop location that takes advantage of the views. The Mexican cuisine is fantastic, as are the Prickly Pear Margaritas.
Favorite bar/club?: It's all about the view here, and Sound Bites Grill has a great bar with an amazing view. They offer live entertainment most nights and many of the acts are award-winning. They put on an excellent show.
Best place for LGBT tourists?: The best place in town, in my opinion, is Red Rock Crossing. It's an iconic location on Oak Creek, with magnificent views of Cathedral Rock in the back ground. It's a great place to swim, take photographs or a shaded hike along the creek. Hands down, my favorite place in Sedona.
What three things do I have to pack to enjoy Sedona?: You'll definitely want to enjoy the breathtaking trails in the area, so sneakers are a must. Sunscreen! We don't have many cloudy days here. The most important thing you'll need is a camera with a spacious SD card. Twenty-one years here, and I'm still photographing these formations. You'll be amazed how many pics you return home with.
Best time of year to visit?: The best weather is found around April and May, and again in September and October. Come in the fall for a chance to see the leaves change in Oak Creek Canyon.
I'm in town for 24 hours: What are 3 things I absolutely have to do?:
1. Cool off at the natural rock water slides at Slide Rock State Park
2. Take in the expansive view and Wright-esque architecture at the Chapel of the Holy Cross
3. End your day watching the spectacular sunset at Airport Mesa Overlook
What's your favorite outdoor activity in Sedona?: I love hiking, and Cathedral Rock Trail is my favorite. It's a great hike that allows for a variety of different ability levels. Climbing up to the top is a view I'll never forget.
Best place to take a photograph?: Boynton Canyon is a scenic drive with plenty of pull-off points. You'll get some impressive panoramic shots back there.
Favorite place to visit on a day off?: I love wandering around the shops at Tlaquepaque shopping center. The buildings are modeled after a Mexican village, so the architecture alone is worth a visit. The shops are unique and eclectic, so you'll always see something unusual there.
What's something people would be surprised to learn about Sedona?: I was surprised to learn about the film history. There were over 60 westerns filmed here. There is even a neighborhood where the streets are named after the old westerns filmed in town. The Sedona Heritage Museum is a great resource in learning about both our film and pioneer history.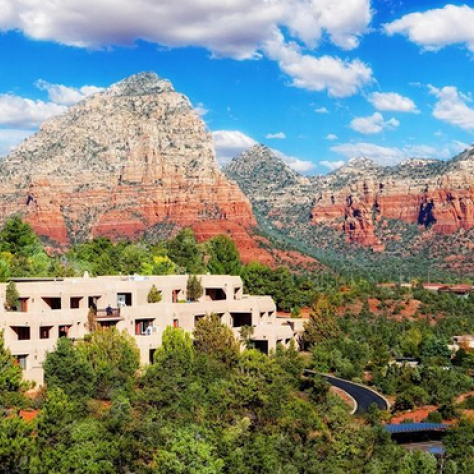 Join the conversation
For more like this sign up for our newsletter
You Might Also Like