Gay Memorial Day Celebration on Pensacola Beach
By Jill Thomas, Director of New Media Marketing, Hilton Beachfront Hotel, Pensacola Beach, Florida

Pensacola Beach is one of the most expansive, beautiful and less known white sand beaches in the world. This hidden gem of a destination is throwing off its reputation as the 'Red Neck Riviera' and embracing a future as a world-class tourist destination. A clear indication that this trend is well under way is the unmitigated success of Pensacola Beach's Gay Memorial Day Celebration
On Memorial Day Weekend Pensacola hosts the biggest LGBT pride celebration in the southern United States. Tens of thousands of gay and lesbian travelers flock to this innocuous beach town every year to bronze their bodies and party with their toes in the blinding white sand.
Pensacola Beach's laid-back surfer dude charm is worlds away from the hustle and bustle of Miami and tacky tourist spring break debauchery of Fort Lauderdale. The community is accepting, embraces gay travelers and is home to many gay residents and several successful gay business owners.
Located on Santa Rosa Island, in Northwest Florida, Pensacola Beach is a barrier island buffered at both ends by bridges. There are water views in all directions, with the emerald blue vistas of the Gulf of Mexico 'Gulfside' and the tranquil views of Pensacola Bay 'Soundside'. Local development is severely curtailed by the protected beaches in the Gulf Islands National Sea Shore located on either end of the island.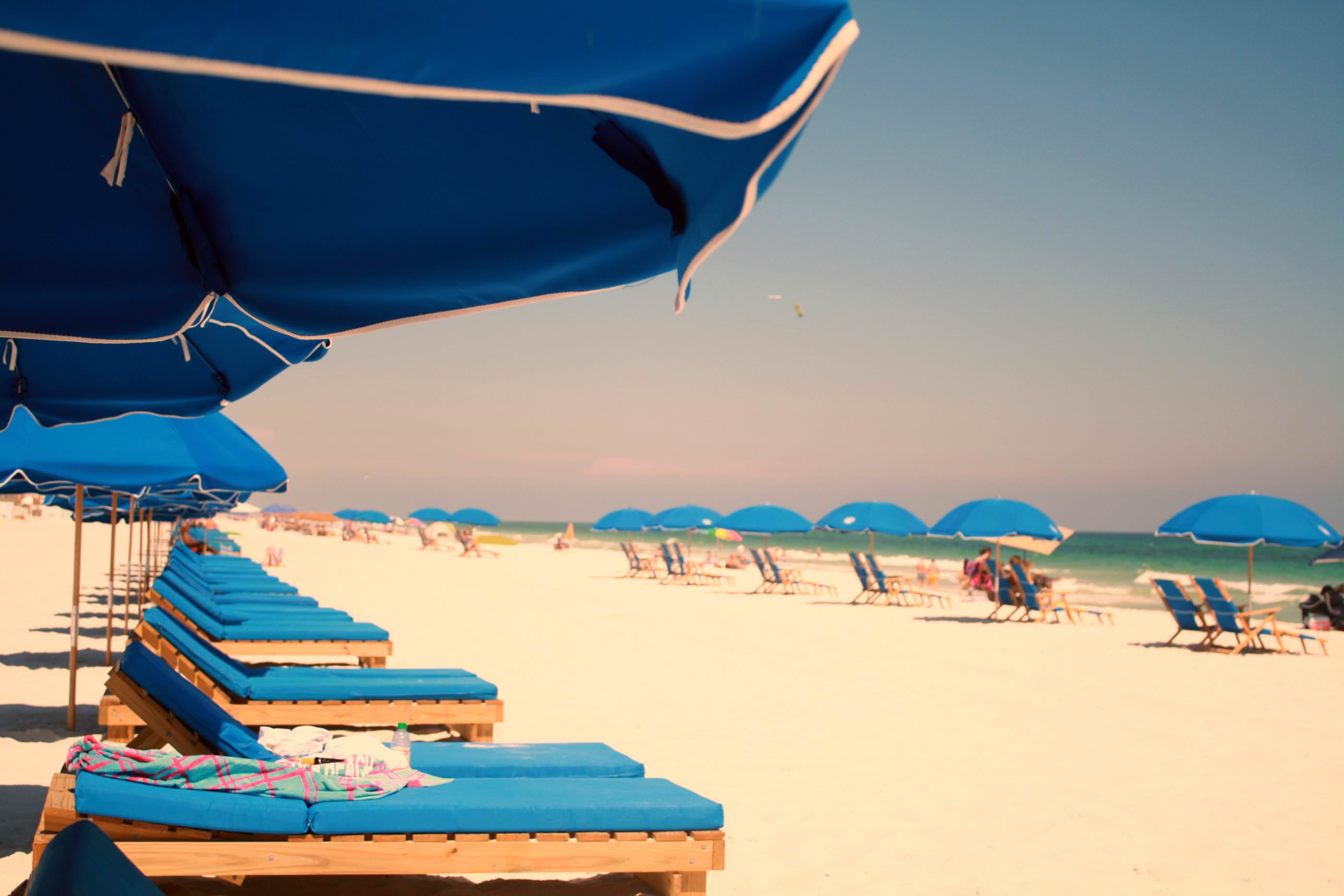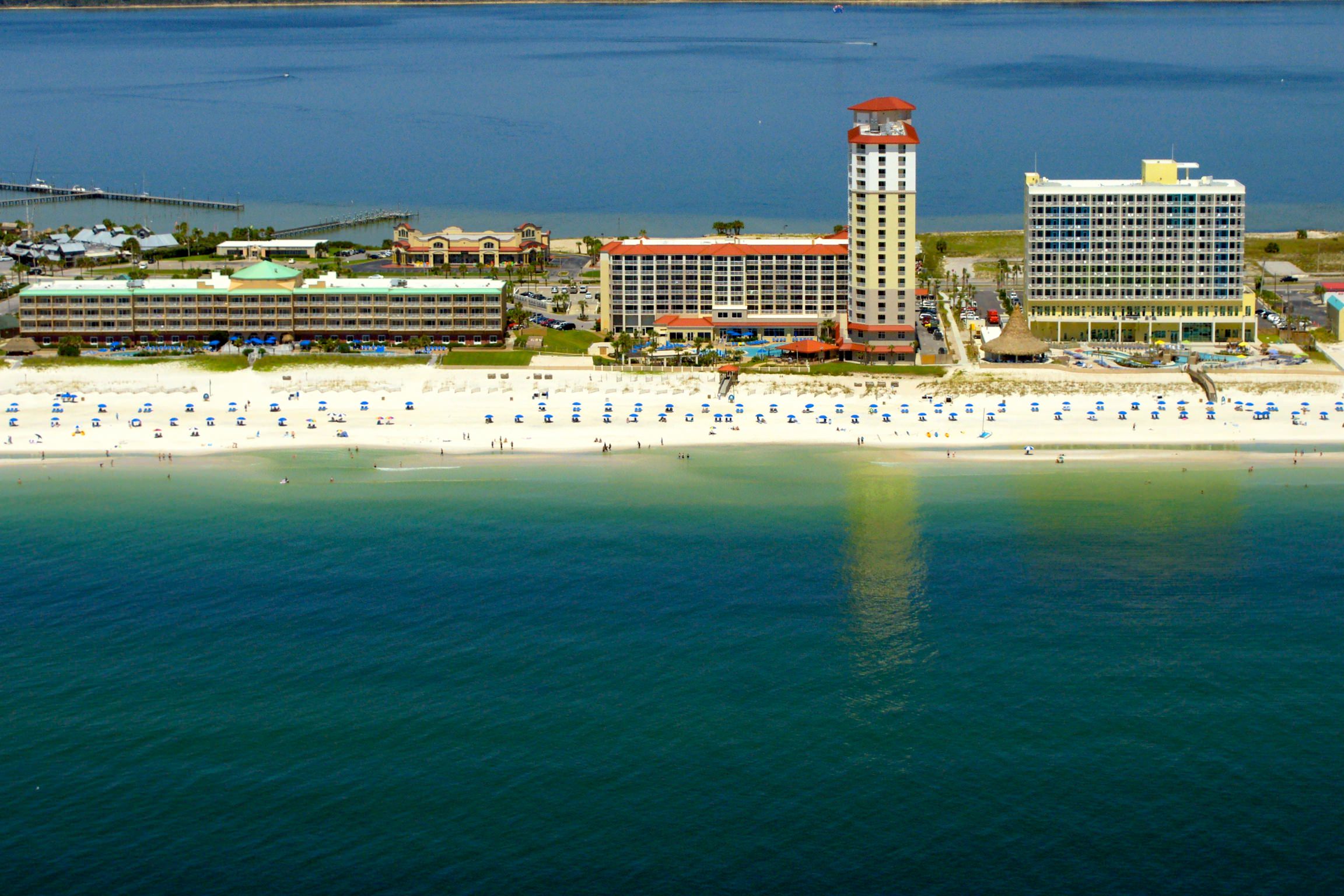 On Memorial Day weekend colorful pride flags wave in anticipation as LBGT visitors from all over the country exit the bridge onto the beach. The colors of the rainbow stand in start contrast to the glittering white sand as the beach transforms into a seemingly spontaneous parade of beautiful bodies and fashionable swim wear.
Revelers start flooding the beach the week prior to Memorial Day. The local vibe is always awash with boisterous anticipation. Friendships and romances are kindled and reunions celebrated. Days are spent nurturing a tan and people watching with a frosty 'Bushwhacker' in hand. Everything you need to have fun in the sun is easily accessible on foot.
At the main beach live music and cocktails are plentiful. If you're energetic there is an ample variety of activities such as stand up paddle boarding (SUP), parasailing, kayaking and dolphin watching. There's also mini golf, go-carts, beach cruiser bike rentals and funky but fashionable beach stores. If you prefer a more tranquil atmosphere then migrate east or west and enjoy a romantic picnic on the wild and non-commercial beaches in the National Seashore. While you are there make sure to explore historic Fort Pickens.
For those who crave culture nearby Downtown Pensacola is a theme park for architectural buffs. Did you know Pensacola is the oldest city in America? Wander through the North Hill residential area and dream of renovating your own antebellum mansion. Then stroll through the pedestrian friendly streets of the Historic District and enjoy unique culinary offerings, theaters, museums and galleries tucked behind flourished iron balconies reminiscent of New Orleans.
Don't miss out on numerous Gay Memorial Day events. Renowned comedian Leslie Jordon of Will and Grace, Designing Women and Sordid Lives fame, will be performing at the historic Saenger Theatre. Emerald City, Pensacola's premier Gay club, will host a blowout bashes every night featuring DJ Jay-R and DJ Joe Gauthreaux. 'The Wave', an all night laser light circuit party featured on Park East will bump and grind from 11pm to 7am every night. At the beach many of the local bars such as Crabs We Got Em, Flounders Chowder House and Castaways also host all night parties.
Don't plan on leaving early because on Monday over 150,000 revelers come back to the beach to put their toes in the sand one final time, to share weekend gossip about new loves or break ups, recruit new Facebook friends, get phone numbers or finally muster to courage to say hi to that beautiful person they've been eyeing up all weekend. Most importantly this is the time to say see y'all next year to newfound friends.
Maybe you'll meet the love of your life and plain a commitment ceremony for the following year. While same sex marriage is not yet legal in Florida, dozens of couples choose this weekend to say "I Do" with those nearest and dearest to them. Once you have experienced Pensacola Beach you'll understand why.
Make sure to choose a beachfront hotel at the center of the action. Gay friendly hotels include Hilton Pensacola Beach Gulf Front Hotel, Hampton Inn and Holiday Inn Resort . Get a Gay Memorial Day Souvenir Beach towel with bookings of four nights or more.
View More Gaycations Articles
Join the conversation