by Jess McHugh
Photo by Mohammed Elshamy/Anadolu Agency/Getty Images
As President Donald Drumpf's travel ban went into effect over the weekend, citizens and immigrants from seven countries—Iraq, Iran, Syria, Yemen, Sudan, Libya and Somalia—were not the only ones to experience its impact.
U.S. travelers saw a wave of immediate reaction that could continue to affect their own travel.
Here is what to expect if you are traveling soon.
Be ready for possible airport delays
Protests erupted at airports across the U.S. over the weekend as the ban took immediate effect. While there was little evidence that the protests caused travel delays, the demonstrations did affect ground transportation in and out of airports, especially JFK in New York City.
Travelers should check their local transportation providers for any disruptions in service. Before heading to the airport, research any possible demonstrations, closed roads, or other events that might be taking place near your terminal.
Give yourself more time
As confusion about the executive order and how exactly it is to be implemented continues, travelers should give themselves additional time at the airport. Particularly with international travel, it's good to aim to arrive at the airport three hours before your scheduled departure.
Know which airlines are offering refunds
For anyone affected by the ban, American Airlines, Delta, and United have begun offering fee waivers, including rebooking and refund options.
To find out which options are available depending on flight and destination, air travelers should always check directly with the air carrier.
Double check you're carrying the appropriate documents
Green card holders and visa holders should take extra precautions to ensure that they have all of the proper documentation in order to reenter the U.S., including a passport from their home country as well as their U.S. residence card.
The Department of U.S. Citizenship and Immigration Services offers more specific information concerning the necessary documentation on their website.
Source: Travel + Leisure
Story Continues on Next Page »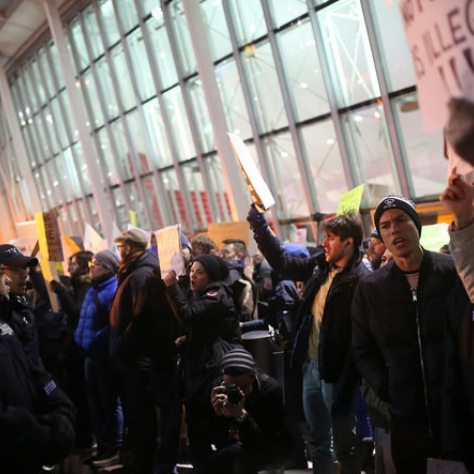 View More From The News Room Articles
View More News Articles
Join the conversation