Written by Flashpacking At Forty Travel Bloggers
Bali Welcomes Lesbian & Gay Travelers
It is important that Lesbian and Gay travellers have the opportunity to express themselves, however they desire while on vacation, without fear of discrimination or hassle. I've travelled to Bali several times, with my long-term partner, and would highly recommend this exotic and exciting place for Gay and Lesbian travel. I've never experienced anything but the warmest of welcomes on my extensive travels around this very friendly and developing country. As Bali is already a popular 'gay' travel destination, especially with Australians and Europeans, you are likely to meet new friends from overseas as well as mixing with the charming and hospitable locals. The wide range of hotels and resorts located in Bali will appeal to the many differing needs of our community. Bali has something to offer whatever your specific requirements. I personally don't think it's really necessary to use a specific lesbian and gay tour operator to travel around, unless you feel more confident having somebody plan your itinerary or your have a tight deadline. Travel around Bali is both very easy and cheap. Most people in the tourist areas speak good English, so communication is never a problem.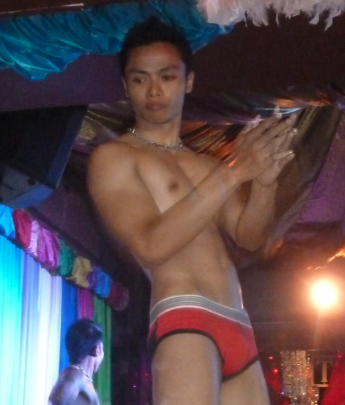 LGBT Accommodation Options in Bali
If you're travelling on your own you may want to stay in accommodation that is exclusively LGBT to give you that extra chance of meeting travel buddies. If you do want to stay lesbian or gay accommodation checkout the useful resource pages of Utopia. Also worth noting, if you do meet up with that special someone whilst on your vacation, nearly all hotels add a small charge if you need a companion to stay over for the night, just check at the time of booking. Same sex couples, won't experience any prejudice or questions like "are you sure you want a double bed?" See the picture of us, when we stayed in Ubud, Bali – it was awesome.
Destination Guide to Bali
Seminyak
Seminyak Is the gay centre of Bali, where you'll find the bars and gay nightlife. There are about half a dozen bars, situated very close together, along Jl. Dhyana Pura strip. Some are more popular with locals. Our favourite is Bali Joe, which has been established the longest, and is very popular with tourists.
Sadly the old gay beach and cafe at Petitengret has gone and been replaced with a new hotel. However, another part of the beach has quickly become popular with the gay community, it isn't as charming as the old area, but is a chance to meet and chat to fellow gay travellers. The new gay beach, is centred around the 'Cantina' beach shack just past the big W Hotel walking north. It's a good 10-15 minute walk from Seminyak centre. The staff at the Cantina, the sun beds, the bar and food prices are all great so it's worth the walk up the beach.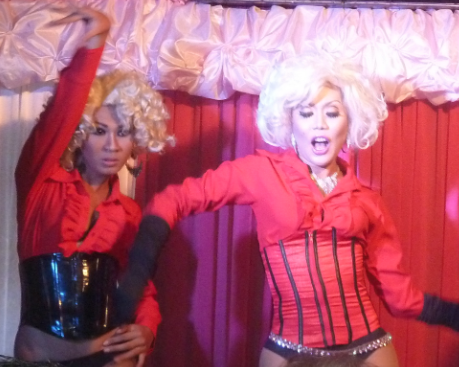 Kuta
Kuta is crazy busy, and is a haven for mass tourism. However, there are some great places to eat and shop. You should spend a day and evening here just to experience the madness.
Ubud
No visit to Bali would be complete without spending a view days in its cultural heartland. Explore the paddy fields and a show performed by Balinese dancers. Ubud is packed with art galleries and craft shops selling upmarket wares by talented artists. Don't forget your umbrella when visiting here, the climate is rainy. You can easily arrange a car very cheaply to take you here from one of the resorts, a lot of the hotels will do free pickups.
Sanur
Is very quiet, and has no gay scene as such. However, if you want a couple of days of complete tranquillity on a quiet beach then this place is worth a look at.
Balinese Culture
The majority of people in Bali are Buddhist and you'll be touched by the local people's peaceful, gentle and polite nature. You will see temples and shrines to their gods, with daily offerings of money, biscuits and cigarettes being made. You won't be bothered by persistent or aggressive hagglers in Bali, just a gentle "no thank-you" will suffice.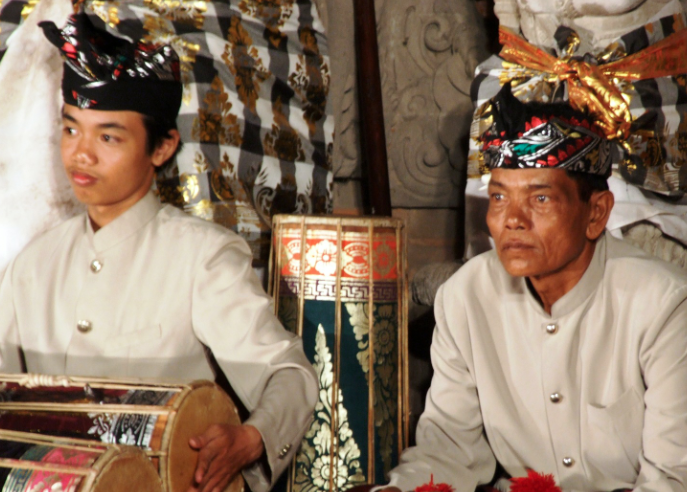 Shopping
Bali has an amazing array of shops and galleries to purchase local works of art, clothes, jewellery and furniture. There are many markets selling counterfeit goods, so if you are going to buy check the quality to ensure it's the genuine article. I would describe this place as a shopper's paradise. However, you need to barter on everything. As a general rule of thumb, settle to pay a third of the price they originally offer. Always smile and never be rude. If it's more than you want to pay, just say no thank you and walk away.
Relaxation
Bali is renowned around the world for the Balinese massage. There are many spa and massage parlours offering cheap and excellent relaxation therapies throughout the country. For those that relax by enjoying more active pursuits, you can also learn to surf or dive here off one of the many beaches in Bali.This is why Bali is my ultimate gay travel destination in SE Asia.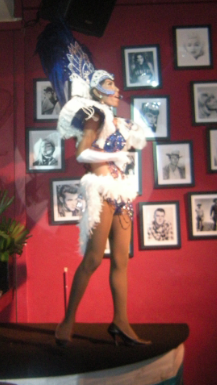 General Travel Advice for Lesbian & Gay Travel in South East Asia
We've provided some general advice, based on our own extensive travels around Asia. South East Asia is a popular travel destination for LGBT travellers. It is true to say that many countries in SE Asia have a very tolerant view when it comes to a person's sexuality, especially that of a western tourist. Tourism is an important economic driver here, so tourists are welcomed with open arms regardless of their sexuality.
Apart from the culture and new friends you'll make, one of the main reasons for visiting this part of the world is the extra 'value' it provides for visitors. When you visit places such as Thailand, Vietnam, Cambodia, and Bali you will find that accommodation, food and services are cheaper than at home. However, this doesn't mean hotel facilities and food need not be of a high standard. Whatever your budget, you are sure to easily find accommodation that will provide an excellent base to explore your chosen destination. Whether this is in a basic beach hut or a private villa at a luxury resort, SE Asia is able to cater for the diverse needs of the LGBT community i.e. providing cheap accommodation for the single traveller, or a luxury bedroom for a gay couple celebrating that special moment. You won't find any stigma relating to your sexuality allowing you the freedom to enjoy your vacation.
---
John & Craig are a same sex couple, who have lived and travelled together for over 20 years. In 2010, they legally recognised they're relationship by completing a civil-partnership ceremony in Manchester, England. The couple write a successful travel blog about their around the world trip, sharing their travel experiences from an LGBT perspective. The 'flashpackers' have taken a career-break, and sold everything, to travel around the world on a long-term basis.
View More Gaycations Articles
Join the conversation