By Jon Fairbanks
Editor
From cross-country drag queens to serial-killer lesbians, there are SO MANY queer travel flicks to choose from. It's hard to pick just 10. But I did!
10. 127 Hours (2010)
Maybe James Franco is just gay or maybe we just want him to be. Either way, he gave an amazing performance in 127 Hours.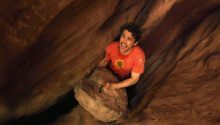 The film is based on the true story of Aron Ralston, a mountain climber who was trapped by a boulder in Robbers Roost, Utah. Franco gives his best performance to date, portraying an adventurer whose desire to break free from civilization puts him in a life and death struggle, forcing him to cut off his arm to stay alive. The role earned Franco an Oscar nomination and cemented his status as the modern day James Dean and gay icon.
9. Roman Holiday (1953)
A princess falls for Gregory Peck while riding a Vespa … gay, gay, gay! Roman Holiday stars Audrey Hepburn as Ann, a royal who meets Joe, a dashing American journalist (Peck) when she wakes up on a park bench after taking a sedative. The couple falls in love while gallivanting through Rome. Eventually, Ann has to return to her thrown and she parts ways with Joe. In 1953, Hepburn won an Academy Award for Best Actress. What could have made this pic more queer? If Liz Taylor got the role.
8. Casablanca (1942)
Peter Lorre's performance as the mincing Ugarte is a close as you can get to a gay character in the 1940s. Casablanca is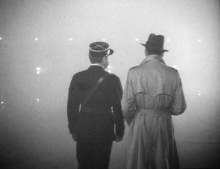 one of the best movies ever made. Humphrey Bogart and Ingrid Bergman play star-crossed lovers stuck in a purgatorial desert during World War II with other characters that will lie, cheat and steal to make their way to America. Casablanca stands the test of time because of its glossy black and white romance and over-the-top patriotic bravado. In the end, Rick walks off with Captain Louis Renault beginning their "beautiful friendship." Who knew Bogie liked men in uniforms?!
7. Crossroads (2002)
Before she shaved her head and beat a car with an umbrella … back when Britney Spears was not a girl or a woman, she also showed she wasn't an actress. But any road-trip girl flick starring Brit and SATC's Samantha Jones as her mom, has to make this list. The best part of the movie … when Lucie (Spears) lip-syncs a karaoke version of "I Love Rock and Roll." Not quite in the so bad it's good category, like a Showgirls, but if you love ham and cheese, check it out.
6. Thelma & Louise (1991)
Two bad-ass gal pals decide to abandon their mundane lives and go on a road trip. When Louise (Susan Sarandon) kills a guy for trying to rape Thelma (Geena Davis), the couple heads to Mexico. While trying to outrun police, the ladies kiss and drive over a cliff. Both were nominated for an Academy Award for Best Actress but lost to Jodie Foster. Still a win for the Lesbians!
5. Some Like it Hot (1959)
Billy Wilder's gender-bending romp tells the story of two musicians who flee from mobsters after witnessing a hit. Joe (Tony Curtis) and Jerry (Jack Lemmon) dress as women, hoping to stay incognito. Things go awry when both men want some Sugar Kane, played by Marilyn Monroe. The last line is still one of the most iconic in the history of film. Jerry removes his wig and says "I'm a man!" Osgood, who intends to marry Jerry's persona Daphne says "well, nobody's perfect."
4. Monster (2003)
This gritty drama tells the true story of Aileen Wuornos (America's first female serial killer) and her bloody rampage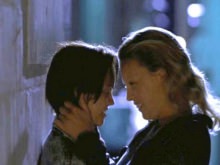 along I-75 in Florida. Aileen (Charlize Theron) turns tricks, kills her johns and steals their money to keep her girlfriend Selby (Christina Ricci). Eventually, Selby turns on Aileen to stay out of jail. Charlize Theron won an Academy Award for Best Actress. Gayest scene: Aileen and Tyra's make out scene outside of the bowling alley set to Journey's "Don't Stop Believin'."
3. The Adventures of Priscilla, Queen of the Desert (1994)
Okay, if you can't figure out why this movie is on this list just by the name, here's the story. Three drag queens journey across Australia in a tour bus named "Priscilla" and the queerest of antics ensue. The film is iconic was praised for positively portraying LGBT characters at a time when mainstream audiences were used to seeing gay and lesbian characters as villains who ended up dying violent and bloody deaths.
2. To Wong Foo, Thanks for Everything! Julie Newmar (1995)
Sex-symbol Patrick Swayze looking fine in a pair in tights! To Wong Foo… is the story of three NYC female impersonators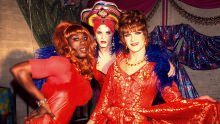 who set out to Hollywood to find fame and fortune. After knocking out a homophobic sheriff and believing he's dead, the ladies are detoured to a small town and add glitz and glamor to denizens' drab lives. Swayze, Wesley Snipes and John Leguizamo turn amazing comedic performances without demeaning the art of drag.
1. The Wizard of Oz (1939)
Wander in to any gayborhood in the world and you will see the lasting impression of this film, the rainbow flag. Wander into most drag shows and you'll see a Judy Garland impersonator lip syncing "Somewhere over the Rainbow." All those years ago there was no way of knowing what a classic The Wizard of Oz would become. Oz may not be a real place, but many gays and lesbians can relate to shedding a gray world for something brighter and looking for home.
Join the conversation