By: Kylie Condon
The Los Angeles Pride Festival took place last weekend, June 9-10 and it was one for the books! I'm literally still trying to wash out all the glitter. Here are some highlights from the rainbow-filled event for those of you who missed out, want to reminisce, or were simply too drunk to remember:
SATURDAY
Saturday's Pride Festival was nuts to say the least. The festival actually sold out for the first time in its 40 years. Lines to get in wrapped up and down Santa Monica Boulevard. Some grew weary of waiting in long lines and decided to hit the lively bars instead. As the festival hit capacity, some ticket holders were unfortunately turned away due to safety precautions. For those lucky enough to make it inside, the performances were well worth the wait. Pop diva, Kim Petras, put on an incredible show despite some sound issues. She still gave it her all and kept fans engaged. Superfruit and Icona Pop followed her lead and kept the crowd going. Both duos put on memorable shows. Closing out the night was R&B singer, Kehlani, who did not disappoint!
SUNDAY
Arguably the main attraction of the weekend was the 48th annual LA Pride Parade on Sunday. It was crucial to get out of bed early, regardless of your hangover, in order to secure a good spot on the crowded boulevard. Thousands of LGBTQ+ people and allies came out to show their support and watch the festive floats come by. There was rainbow, glitter, and crop tops as far as the eye could see. Once the parade ended, people flooded back to the festival. Luckily lines to get in weren't quite as bad as the day before. Organizers of the fest also apologized for Saturday's overcrowding and promised to provide refunds or exchange any unused tickets for access to Sunday's events. The festival's last night closed out strong with Sweden's Tove Lo headlining and even a surprise visit from the one and only Christina Aguilera.
For more info on LA Pride, check out their website. Happy Pride Month!
**To follow Kylie and see more Pride photos, follow her on Instagram @lezexploreinsta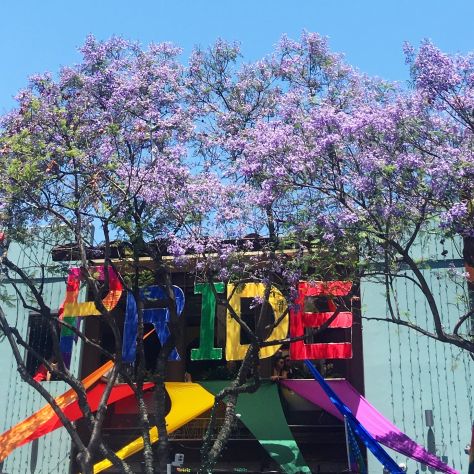 View More Event Spotlight Articles
Join the conversation
You Might Also Like