By Kylie Condon
In need of a quick mini-vacay from Los Angeles, my girlfriend and I decided to road trip down south to San Diego for the weekend.
We fully indulged in the city's laidback beach vibes, plethora of breweries, and delicious food. Some amazing vegan options too if that's your thing! I was also pleasantly surprised by what a gay-friendly city San Diego is. They even have a "pride card" that offers discounts at certain bars, restaurants, and stores around town. Most of the LGBTQ+ friendly bars are situated in the Hillcrest area, but the whole city feels accepting of the community. Here were a few of our favorite spots:
SRO Lounge
Our first stop of the night was SRO Lounge. We decided to walk there because it wasn't too far from where we were staying, but our route took us through some sketchy areas. Maybe it was just the GPS, but I'd recommend taking a Lyft here just in case. SRO was a very old school gay bar, carpeted floor and all. Its unassuming décor was comprised of mirrors and Christmas lights lining the bar walls. SRO felt like a local watering hole with bartenders well acquainted with some regulars. Despite being newbie's, the staff was still friendly with us and poured some very strong drinks. Thank goodness for the free popcorn they gave us, otherwise we'd have been pretty drunk after our drinks. If you're looking for a divey vibe and stiff drinks that won't break your wallet, SRO Lounge is your spot.
Gossip Grill
Moving our way into the Hillcrest area, we found Gossip Grill. Gossip Grill actually reminded me a lot of the Abbey (in Los Angeles) if you were to replace all the gay boys and straights with queer ladies. Yes, I promise it exists! It's definitely the largest girl bar I've ever seen and one of the only ones that still exists on the West Coast. With two indoor bars and an outdoor patio, which is key in the constantly perfect San Diego weather, one can always find space at Gossip Grill. As you can probably assume by the name, they also have food, which is surprisingly decent… I'm always skeptical to eat at nightclubs, but the menu had some solid options! Drinks are reasonably priced as well. Gossip Grill always has events and parties going on, especially weekends, so be sure to check their calendar.
Hillcrest Brewing Company
Down the street from Gossip Grill is Hillcrest Brewing Company. The brewery prides itself in being the first gay brewery in the world, which is definitely something to have bragging rights about. Hillcrest Brewing Co felt like a chill alternative to the rest of Hillcrest's more clubby, dance-bar vibes. I'm not much of a beer drinker, but the beer seemed pretty legit and there was a large selection to choose from… Which was a nightmare for a non-beer drinker, but I'd imagine pretty desirable for people who are well versed in beer. Regardless of how much you know about beer, this was the perfect spot to wind down our night.
**To follow Kylie and see more travel photos, find her on Instagram @lezexploreinsta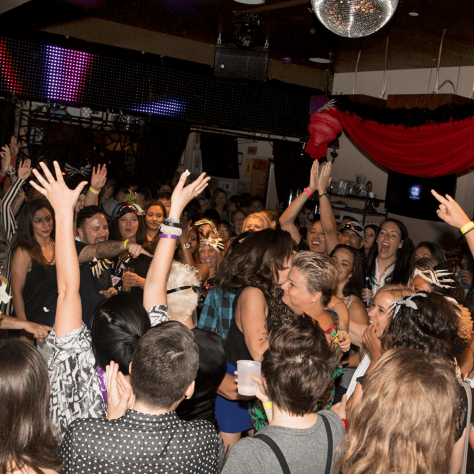 View More Gaycations Articles
Join the conversation
You Might Also Like