Thailand is one of the world's most popular gay travel destinations. This Southeast Asian country is one of the most relaxed, fun-loving and accepting nations in the region, making it a relatively gay-friendly nation where partying abounds. If you plan to travel to Thailand on a gaycation, here's the skinny on LGBT fun in this tropical country.
Ladyboys
Most likely you've heard of Thailand's famous ladyboys, or kathoeys. These Thai transgender performers are often employed as entertainers in the major cities like Bangkok. While an iconic part of contemporary Thai culture, the ladyboys often come from poor rural villages where they may have been disowned by their family members for being LGBT. They're also some of the lowest paid members of Thai society, so tip them warmly if you visit a show.
Lodging
Thailand is a highly affordable country where the U.S. dollar is strong, so you may wish to splurge on an upscale resort or hotel to get the biggest bang for your vacay buck. The Chatrium Residence Sathon Bangkok and Chatrium Hotel Riverside Bangkok are both award-winning gay-friendly hotels where you can sleep in style and comfort, while the Maitria Hotel Sukhumvit 18 — a Chatrium Collection, is a fully-equipped lifestyle hotel located right next to some of the best shopping and dining in the city. If you're interested in getting out of Bangkok, consider the Phuket Marriott Resort & Spa, Merlin Beach or Nikki Beach Resort, Koh Samui, dubbed the "Sexiest Place on Earth" by the London Observer. No matter what your style or budget, however, Thailand has a little sumpin' sumpin' for everyone.
Gay & Lesbian Acceptance
While Thailand is a generally accepting country, gay and lesbian couples should be wary of exhibiting too much PDA, especially when traveling outside of the major cities. While you're unlikely to face problems, some Thai people still view homosexuality as a sin and may judge or discriminate. Getting the ol' hairy eyeball from disapproving locals can be a real gaycation downer.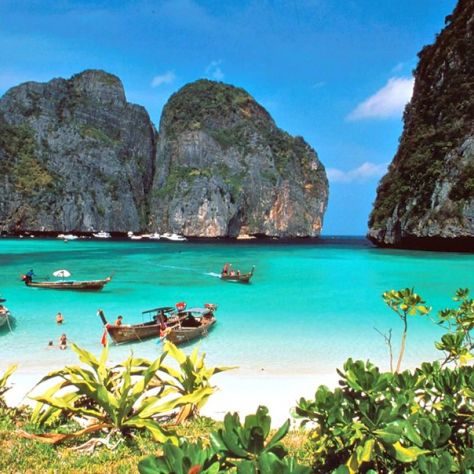 View More Arts and Culture Articles
View More Gaycations Articles
Join the conversation
For more like this sign up for our newsletter
You Might Also Like