By J.A. Gooch
They're back, honey!
A little over a week ago, the long-awaited revival of the late 90s/early 2000s smash sitcom success Will & Grace debuted on NBC, and needless to say, we were STOKED! Presided by a 10-minute sketch of the 2016 Presidential Election, which was published online late last year, there has been a great deal of speculation and buzz surrounding the return of the cherished T.V. quartet that helped redefine and normalize homosexuality in 21st century America. But over the course of 11 years, a lot has changed in the world, including the nationwide legalization of same-sex marriage, the guarantee of adoption rights for same-sex parents, as well as progress made in other areas, including those of gender identity. With that in mind, both the show's revivalists and critics, in addition to audiences, have expressed high hopes for the return, completely certain that if anyone can take on the newfound hardships of the modern world, all while making us split our Spanx with laughter, it'll be Will, Grace, Karen, and Jack. And boy were they were right!
When Will & Grace bid farewell to the airwaves in 2006, we the viewers were left in a bit of a better world than the show found us in in 1998. Recognized as one of the most socially influential shows of the 21st century, even former Vice President Joe Biden had nothing but praise for the sitcom, saying, "I think Will & Grace probably did more to educate the American public [on LGBT issues] than anything anybody's ever done so far." However, and as previously mentioned, there have been a great deal of changes both in the U.S. and the world at large where LGBT issues are concerned, one of which is the rate of familial acceptance, a central focus in the most recent episode of the reboot.
In the second installment of the Will & Grace continuation, Will, now in his mid 50s, finds himself entangled with a young, 23-year-old man (Ben Platt). But despite their initial mutual infatuation, the couple soon realizes the many hurdles the 30-year age gap presents them with, including everything from their differing opinions of Madonna to their annual incomes to their coming out stories.
If you can recall, in the original series Will struggles as he tries to reconcile his sexuality with his upbringing, something his new lover just can't understand. In fact, Ben's experience is entirely different from Will's. When asked about his story, Ben confesses that he came out to his family before puberty had even settled in and was even thrown a huge coming out party. (Wow! Talk about acceptance!) While this is hard for the once oppressed Will to wrap his mind around, what's even more difficult for him to fathom is Ben's lack of basic knowledge concerning the historic Stonewall riots, other LGBT moments of significance, and just how easily their community's rights could be taken away. Being the high-strung human rights activist he is, Will just isn't able to let it go, opting to give the youngster a hilariously informative and much-needed lecture on where his freedom comes from, something we all need to be reminded of from time to time.
Although I am not as completely oblivious to the hardships of the LGBT community, I—at 26 years old—am almost as far removed from the struggle as one can possibly be. While I did not enjoy the overwhelmingly supportive reception to my coming out that Ben Platt's character did, I am now happy to say that I have the unconditional support of my family and friends, am blissfully engaged to the love of my life, and am in the middle of planning a huge fairytale wedding! Needless to say, I am extremely proud of my big gay life, but it is because of this big gay life that I am unable to fully grasp the pain and affliction of those who came before me and fought the battle that gave me my right to shamelessly live and love without abandon. And the fact of the matter is I will never be able to completely understand, which is a good thing, I suppose; after all, isn't that why the war was waged and fought in the first place? To afford future generations of LGBT people the opportunity of living a life free from the shadows? If this is true, and I wholeheartedly believe it is, it is equally true and important that we, no matter our generation, understand that our freedom was not at all free. This is why shows like Will & Grace remain so culturally important as we journey forward; they force us to remember where we've been on the way to where we're going, all while making us laugh a little on the way. For Will & Grace specifically, the time has come to "Make America GAY again!" and keep it that way.
'Will & Grace' airs Thursdays on NBC at 9:00PM.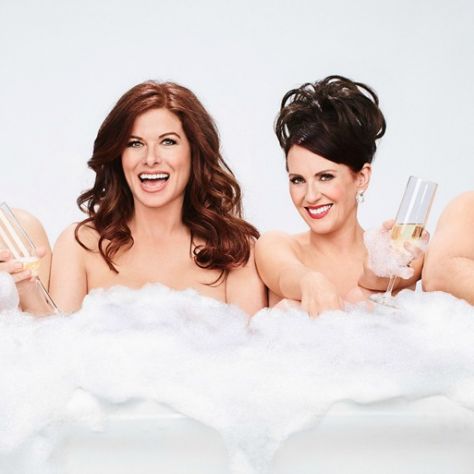 View More Arts and Culture Articles
View More News Articles
View More Top 10s, Rates and Reviews Articles
Join the conversation