By Mary Buckheit
contributor
I've never really had a Bucket List, but if I did, it would obviously be called The Buckheit List.
On top of it, in bright red ink, I would have slated the six subtropical states of Australia as the most desirable destination for my feets to feel beneath them someday.
So then, it was quite fitting, that when I arrived to the last page of a magazine I had been browsing for the last hour of my first flight from Los Angeles to Sydney, I playfully gave my horoscope a read just because it presented itself to me with hours to spare at 30,000 feet above the middle of the sea. It read: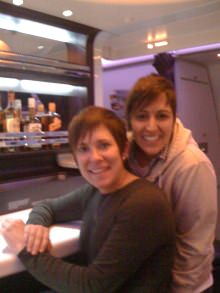 LEO: The first half of 2011 brings a burning desire to pack your bags and book a trip overseas. Your adventurous spirit is peaking and can only be appeased with the freedom of exploring new horizons. Indulging in travel abroad is a great way to open your mind to new philosophies, attitudes and thinking.
Truer words were never spoken. Life is funny sometimes. Just when you start to wonder if you're doing the right thing, or on the right track, The Universe has a way of dropping a crumb at your feet that suggests verity with exacting precision: The fulfillment you seek is actually seeking YOU.
And so, charmed was my very first and long-awaited Australian odyssey. And here begins the official Mary B. Aussie Travel Diary through a series of installments on GayTravel.com.
But first, my disclaimer about the voyage itself:
"I knew the flight attendants."
I'm not one for disclaimers, because, by definition, disclaimers seek to deny something, and most often, that thing is personal responsibility. But, to be clear, I MUST distribute responsibility for every ounce of joy that came my way while on the other side of the Pacific amongst the beautiful people I met along the way.
It is my hope that in reading my intimate account of this adventure, you come to trust me personally, so much as to help guide your future gay travel endeavors. That said, I relinquish all credit for the cushy comforts and divine in-flight accoutrements to my dear friends at V Australia Airlines who seductively and successfully enraptured a rosy idea of all things Australia before I even got off the LAX tarmac.
Securing a first class upgrade as you set out for a vacation halfway around the world can only be compared to a lover peppering your stomach with baby kisses and waking you in the warm morning glow of a Saturday morning with relations that carry you through the day with a childish grin. Thanks for getting me out of bed on the right side of this thing, V Australia. [Thanks also for forthwith, unceasing contempt for economy class as long I now shall live.]
If you are not rich, famous, airline status-oriented, or so lucky to have several flighty friends, book your economy ticket to Australia now, procure some Vitamin V [valium], and just skip to the next section of the blog, because once you get behind the curtain, you may never come back.
THE FLIGHT of MY LIFE: BUSINESS CLASS ON V AUSTRALIA
"Are you sure?" The flight manager asked with a head tilt sending her gleaming blond hairs grazing the limits of her shoulder. I had just told her that I'd rather stay seated in the row beside my best friend, Lisen, than take the upgrade to business class and be separated.
But before I could even look my best friend and travel buddy sitting beside me in the eye, to nod and confirm my undying loyalty through lack of legroom, she was grabbing her laptop from beneath the seat in front of her and off to the front of the plane to cash in on her first class seat faster than you can say, "warm nuts in tiny finger dishes."
Ironically, ditching me for first class was the best thing Lisen ever did for me.
I eventually made my way to the front of the aircraft and assumed my seat in 1C. When the beautiful flight attendant handed me a flute of champagne and a pearly smile to go with it, my wounded heart was miraculously un-hurt. Champagne before take-off?? Christmas came early!
And just when visions of sugarplums couldn't have been any more unmistakable, a certain esteemed little elf appeared behind me in the flesh.
At first I thought my eyes deceived me, but a Lacoste alligator never lies.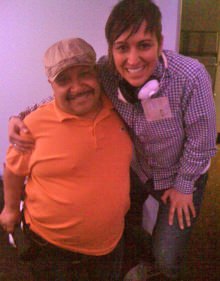 Chuy!
Chuy Bravo, Chelsea Handler's hunk-a-nug-of-burning-love was sitting right behind me! I raised my eyes above his Kangol flatcap to scan the cabin for Lisen and try to convey the spectacular news, but as I did, the adventure snowballed even further into the surreal.
On Dasher, on Dancer, on Prancer, on Vixen! … On Chelsea, on Jiffy, Sarah Colonna, and Franjola!
[Dear Sarah: If you're reading this, go gay for me? I love you. -Mary in 1C ]
There I was, sipping bubbly with the entire cast of the smartest show on television.
Beside me in my spacious two-seat-wide front row was Sue Murphy, the Co-Executive Producer and brains behind the brilliance. [Dear Sue, if you're reading this, need an intern? Call me! –Mary in 1C.]
I was beside el jeffe of Chelsea Lately and completely beside myself. Stay cool. The only thing left to do was ask the flight attendant to keep topping me off as I put on the complimentary noise-cancelling headphones and watched a movie so as not to lionize the locals.
But I soon learned that life is not so simple in Business Class. Distractions abound!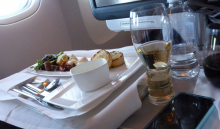 First up came a chat with an old pal -- lesbian sensation comedienne, Fortune Feimster [performing at The Dinah 2011] and a part of the Chelsea Lately staff.
After a good chat to catch up on our lives, I went back to my seat for refuge from overstimulation only to be seduced by a state-of-the-art in-seat touchscreen.
I had trouble deciding between a season of "Modern Family," or new movie releases like "The King's Speech," "127 Hours," and/or "Waiting For Superman." But before I could decide, a salivation response kicked as if Ivan Pavlov, himself, was on the plane. [And at this point, I would have believed it!]
Dinner and movie. What could be better? Fine dining delights were flying out of the attendants' tiny room. Fragrant carrot and ginger soup with a warm wheat roll came first paired with an Australian Riesling. Next was a beechwood smoked Salmon with crème fraiche and a Victoria Pinot Gris, and then barramundi fillet, pesto kipfler potatoes, French beans and roasted vine ripened tomatoes. I've never imagined such treats on a tray table before.
I saved room for a bite of the coconut panna cotta and vanilla poached mango, and just when I thought it was safe to retreat into a deep food coma, my pal Lisen was messaging me from her seat to mine screen on the internal chat system to tell me to meet her at the bar.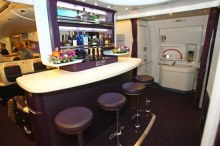 Dear Richard Branson -- if there is ever any shadow of a doubt cast on your entrepreneurial genius, point that naysayer directly to the bar on an airplane and dare him to utter another incertitude!
I could carry on about the turn-down service, cheese plate, lay-flat bed, complimentary pajamas, fiber optic twinkling star ceiling, morning mood lighting, breakfast, of super homo/homo-friendly/highly attractive flight-staff, but I was getting loose with Franjola at the bar and the details aren't really important, are they? [The fun you can have with an eye mask!]
The bottom line is three pronged:
Go to Australia. Fly V Australia. Get into business class even if you have to sell your first-born child.
Traveling on a budget? Hey, if you spring for business class you probably won't even want to get off the plane so all things considered, you're actually saving cash! Why squander away money on hotels? Just duck into the first class restroom when that big, fat 777 touches down, slather on some roll-on to keep fresh for the second leg of your trip, and rock n' roll right back to LAX. Now that's traveling on a shoestring!
Coming soon: Part II – I Decided To Get Off The Plane
Mary Buckheit is a freelance journalist based in San Diego. A long-time columnist for ESPN Music and regular GayTravel correspondent; her essays have also appeared in Boston Spirit Magazine, FlawLes Magazine, AfterEllen.com and on San Diego Gay & Lesbian News. Check out her YouTube channel @MaryBside.
Join the conversation