By Ryan Haynes
ryanchaynes.blogspot.com
South America is my favorite part of the world; a mix of climates from the ice and snow in the south, the sheer phenomenon that is the rainforest together with the excitement of the Latin culture and superb food.
We chose Argentina due to Iguaçu Falls; Cuba had the year before showed us an interesting Spanish culture but we wanted more nature; Brazil had given us a taste for the countryside and the food. The time; Christmas and New Year – a 16-day vacation with our bags on our backs and the freedom of our feet to roam the country as we wished.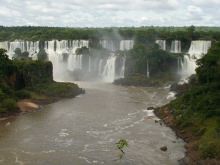 Argentina however is much larger than we initially thought; it's not straightforward, you need to limit yourself to truly enjoy it (unless you have months on your hands and even then our friends who have visited you need 3 months minimum). Even for us 7 cities in 16 days was too much and we only discovered the North-East; we still need to go back for Mendoza wine country and experience the spirit of Patagonia in the south.
However, I hope our journey, the experiences and my imagination provide you with a little insight to this beautiful country and wonderful people. Read on:
THE ARGENTINE NE SERIES
Escaping Home: Argentina - Snowy London, Paris to Buenos Aires
Day One: Argentina – Buenos Aires, a little mistake
Day Two: Argentina – Train to the Delta, Tigre
Day Three: Argentina – A journey to Heaven – Iguaçu, Iguaçu
Day Four: Argentina – Panoramic Brazil
Day Five: Argentina - A water experience like no other
Day Six: Argentina – Posadas or Not? Mission!!!
Day Seven: Argentina – Resistencia the heat trap
Day Eight: Argentina – A journey from Resistencia, the buses
Day Nine: Argentina – Cordoba, A bustling second city
Day Ten: Argentina – Condor country
Day Twelve: Argentina – Back in Buenos Aires
Day Thirteen: Argentina – New Year's Day, Dakar Race
Day Fourteen: Argentina – Across the waters to Uruguay
Join the conversation