I was 18 years old when I was lucky enough to first visit Paris. Having seen images of the Eiffel Tower so many times during six years of French classes I thought seeing the real thing would not move me that much - it did. We asked trusted travelers what their favorite "ooh la la" things to do in Paris are. We also have asked our longtime good Parisian friends what they love to do and for some special insider tips that just may not show up in the guide books. I will never tire of this city and every time I go I discover new things. Even if we get old, Paris never does.
GET LOST!
Gregg Kaminsky of Family Vacations has traveled extensively and is a leader in the LGBT travel industry. Gregg said, "Paris is even better than you imagine! There is so much to see and do but, honestly, my favorite thing is to just wander. Get lost. Walk all day and just enjoy the unbelievable beauty of this spectacular destination. When you get tired, do like the locals do and just grab some bread and some wine and sit along the Seine or in the middle of the Jardin des Tuileries and pinch yourself that you are in Paris! ".
Fortunately, Paris has one of the best subway systems in the world (In my mind the best) and allows you to easily wander. It is inexpensive, pervasive and runs frequently. What I love to do is to take the Metro to an end station and then start walking back through the city. Every street and neighborhood has its own unique feel with beautiful architecture and a plethora of food and coffee options.
One of my favorite walks is starting at Métro Gallieni heading west past Père Lachaise Cemetery. From Père Lachaise you arrive at the Place de la Bastille. Never quiet, the area around the Bastille is full of activity. If possible, try and take in a performance at the modern Opera Bastille, one of two in Paris. The Opera Bastille features mainly operas while the historical Opera Garnier hosts ballet. The nearby La Place des Vosges is where you can truly experience the Paris of the early 17th Century. Originally known as the Place Royale, it is the oldest planned square in Paris and was a fashionable and expensive square to live in during the 17th and 18th centuries as it still is today. This is the perfect place to sit in the park and soak up the unique beauty that is Paris or if you are not too tired to discover the fantastic art galleries under the arcades surrounding the place. Your feet will need the rest as you now explore "le Marais," one of the gayest neighborhoods in Paris. And for good reason.
CEMETARIES: ICONS, IDOLS AND INSCRIPTIONS
Père Lachaise Cemetery is a must. It is something to see the graves of Jim Morrison (bearing the Greek inscription ΚΑΤΑ ΤΟΝ ΔΑΙΜΟΝΑ ΕΑΥΤΟΥ -- "true to his own spirit"), and of course LGBTQ icons: Colette, Oscar Wilde, Edith Piaf, Isadora Duncan and Maria Callas! Why not really impress your friends back home by taking a side trip to see the Montmartre cemetary which houses the tomb of the legendary Dalida – one of the biggest gay icons in France. Her gay brother/manager helped this Egyptian born star rise to the top in France and sell over 170 million records worldwide. Then take some time to enjoy the view of Paris either from the rooftop bar of the Terrass Hôtel or the esplanade in front of Sacré-Cœur. The Basilique du Sacré-Cœur is the stunning white basilica, at the top of Montmartre, the highest point in the city. Brian Van Wey, of Brand g Vacations told us he "was so overwhelmed by the incredible view. - Sacré-Cœur is not my only fond memory of Paris, but it will always be my first."
THE MARAIS: A MOULIN AND A MAMMAL MUSEUM
The Marais is gay. Within a very small area you will find LGBT bars, cafes, restaurants, and shops. I love the Marais because here I feel the pulse and strength of our community. From bears to drag, coffee to champagne, and sandwiches to fois gras, there truly is something for everyone. A classic restaurant is "Le Gai Moulin" with its witty owner Christophe who speaks English. Close by is "Des Gars dans la Cuisine" which offers a very friendly atmosphere and great food – best to make a reservation here. The Marais is more than just "gay". It is home to the Jewish community and three renowned museums: Musée Picasso and the house of Victor Hugo. And of course, since the Marais is home to "bear bars" why not try a museum with bears in it – the charming Musée de la Chasse et de la Nature is actually about the relationship of Art, Hunting and Nature and is consistently voted as one of the most popular museums is Paris.
FOOD AND FASHION – TWO OF OUR FAVORITE THINGS!
"Mangez!" ("eat") – It is Paris after all. And in the end, why not buy your picnic supplies surrounded by fashion – there are three exceptional "food halls" in Paris leading department stores. They are worth visiting on many levels (pun intended). Here are the three best: La Grande Epicerie de Paris at Le Bon Marché, Lafayette Gourmet across the street from the Galeries Lafayette and Le Printemps du Goût, the stunning new food hall in the historic Printemps department store. If you chose to stay and eat here, its terrace restaurant offers stunning views of the Eiffel Tower and Sacré-Cœur. Oh yes – they also sell clothes!
BOBO?
"Bourgeois – Boheme" – it's not just a style, it is a Parisian lifestyle. Here are some BOBO things you can do:
Picnic along the Saint-Martin Canal. You can start at the Colonel Fabien metro station and walk all the way to the Place de la Republique (and remember in France you can enjoy wine with your picnic!)
Eat at Le café Charbon at Oberkampf in the 11th arrondissment
Wander the latest trendy areas of Belleville, Oberkampf, and Ménilmontant, and if possible try and be there for a when they open up artist studios. This year Belleville opens its "ateliers" doors from May 25 to 28.
LOVE OUR LOCALS:
A trip to Paris is never complete without some time with Basilio and Thomas. Basilio has been in the travel industry for … - well a long time. The ever charming Thomas is passionate about food. They love this great city and have helped us bring you some great insider tips. You can visit Thomas at "L'huilerie Saint-Michel" in the heart of the Marais at 45 rue du Temple. This fantastic boutique specializes olive oil and is a great place to bring back truly wonderful gifts.
In or near the Marais be sure to try the following always (keeping in mind that they may be packed, and you may need to drink outside so dress appropriately):
The Cox Bar – still "très à la mode!" ("very trendy")
Bears'den – the name says it all!
El Hombre is a new bear bar
Le Quetzal has a nice mix of people
Open Café is a nice place to have a drink or coffee on the terrace (also nice affordable food)
If you want to try something very French for the first time, wander over to the Restaurant Giraudet near the Place des Vosges. Their specialty is "quenelles" – a dish from Lyon that is difficult to describe but easy to eat. It may be your first time in Paris – but eating here almost makes you a veteran.
Le Parc des Buttes-Chaumont is a 19th-century park located in a former quarry, with tall trees, a lake, waterfalls and old, iron railway bridge. It is not known by tourists and in the summer is very popular with Parisians for picnics. It is especially popular with the LGBT community and is the home of the Rosa Bonheur bistrot. Late on Sunday afternoons they offer a special « apéritif » that is « très gay" ! ("so gay")
Facebook for French face to face fun: if you want to see where the locals are, check out VendrediX / MercrediX Facebook page. This page lists venues where hundreds of LGBT people will meet up on specific days for a drink.
Photo credit courtesy of Paris Tourist Office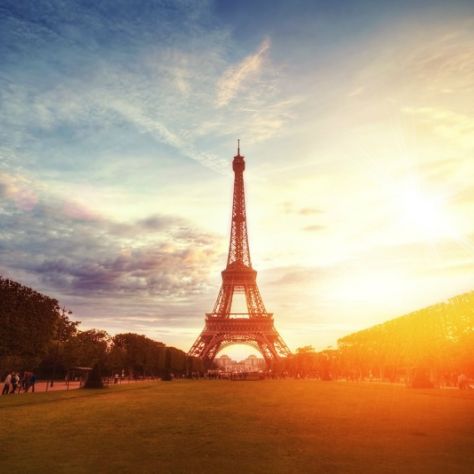 View More Arts and Culture Articles
View More Gaycations Articles
View More The Gay Travel Guru Articles
Join the conversation