There's always so much to do in Paris during the summer, especially this summer when Paris hosts the Gay Games in August. But whether you are there in June, July or August, there is no place like Paris for a perfect summer evening (gazing at the Eiffel Tower from The Trocadéro), or morning (think perfectly made coffee and a croissant) or afternoon (think relaxing boat ride on the Seine).
GAY GAMES 10
Gay Games 10 will bring together thousands of LGBT athletes and spectators to the French capital from August 1 to 12 this summer. This is an excellent time to visit the city not just to watch the competitions, but to enjoy all of the associated activities. The opening ceremonies are on August 4 at the Jean Bouin Stadium, and one week later, on August 11, thousands will gather at the City Hall for the closing ceremonies. In between, there will be an extensive choice of events starting with the amazing Opening Party at the Grand Palais and ending with the closing party at the Paris Docks. Gay Paris will never be gayer!
GAY PRIDE PARIS 2018
From June 15 to July 1, a wide range of cultural and fun events will take place across the city. These 15 days of activities are called "La Quinzaine des Fiertés." The pride parade, also known as "La Marche des Fiertés LGBT," starts at 2 PM on June 30 at the Place de la Concorde and ends at the Place de la République where there will be concerts and much, much more. Always fun and festive, La Marche also highlights the fight for equal rights.
GREAT CHATEAU GARDENS
Summer is the best time to discover the stunning gardens of the chateaux surrounding Paris. The flowers are out, the fountains are on, and they are a perfect place to relax and enjoy a picnic. Versailles is possibly the most famous garden in the world. The scale is monumental, the Grand Canal itself is nearly one mile long – a place where you can wander in tranquility. Try to be at Versailles to see the fantastic fountains at full force. "Les Grandes Eaux Musicales" is where you can wander amongst the exquisite sculptures and fountains while listening to baroque music. Every Saturday evening between June 16 and September 15 the Chateau offers "les Grandes Eaux Nocturnes," a not to be missed opportunity to stroll in Château de Versailles' magically illuminated gardens, with all the fountains playing and topped off by a grand display of fireworks. Simply "magnifique."
Southeast of Paris lie two stunning gardens: the gardens of the Château de Vaux-le-Vicomte and of the Château de Fontainebleau. Vaux-le-Vicomte is a perfect example of the "Jardin à la française," formal gardens that became popular in Europe in the 17th century. Not as large as Versailles, this garden features changing vistas, hidden charms and gorgeous fountains. "Les Soirées aux Chandelles" (candlelit evenings) is presented every Saturday night from May 5 to Oct 6, 2018 at the Château. Since this is the 50th anniversary of Vaux-le-Vicomte being open to the public, the firework display will be especially fantastic.
Fontainebleau has four main gardens, each different in character. The Grand Parterre, a formal garden, has some 45,000 flowering plants. The Jardin Anglais features paths and rivers, as well as statues and sculptures. The most intimate is the Jardin de Diane, centered around a statue of Diane the Huntress. Last, but not least, is Le Parc, the large forest and canal leading away from the Grand Parterre. The Parc is nearly ¾ of a mile long and filled with large, majestic trees.
LIFE'S A BEACH – AND A PICNIC!
When you have finished with the fantastic museums, monuments and the Marais, enjoy the best people watching in Europe. "Paris Plages" (Paris Beaches) was created by former Paris Mayor Bertrand Delanoe in 2002 (of course it took a gay mayor to bring beaches to Paris!). Several spots along the Seine are transformed into full-fledged beaches, each with its own distinctive theme and attractions. Sunning in the sand, swimming in pools suspended over the Seine, kayaking, or enjoying free evening concerts, there's nothing like time at the beach.
Paris is food, cafes, restaurants, crepes on the street – and it is also food markets and halls where you can buy fantastic fare for putting together the perfect Parisian picnic. When Parisians picnic, it's usually for the "apéro," so they bring cheese (lots of it), sliced meats, bread, olive oil for dipping, beautifully prepared vegetable salads ("celeri remoulade" is a personal favorite), strawberries, and, of course, wine. A nicely chilled rosé is a must to freshen up during summertime. We recommend that you have at least one picnic this summer. Two popular Parisian picnic places: The Saint-Martin Canal between the Colonel Fabien metro station and the Place de la République, and le Parc des Buttes-Chaumont, a 19th-century park located in a former quarry, with tall trees, a lake, waterfalls and old iron railway bridge – it is not known by tourists and in the summer is very popular with Parisians for picnics. It is especially popular with the LGBT community and is the home of the Rosa Bonheur bistrot.
FAIRS FOR FRENCH SPEAKERS
Paris hosts two book fairs in the summer. From June 28 to July 7, you can enjoy the "Salon du livre lesbien." This book fair highlights lesbian literature, and its program includes talks, exhibitions, meetings, performances, readings, and book signings. On August 25 Paris will host its third gay book fair. More than 40 publishers and authors will present their books, from romantic novels to comics, crime novels, and historical books.
Photo credit courtesy of Paris Tourist Office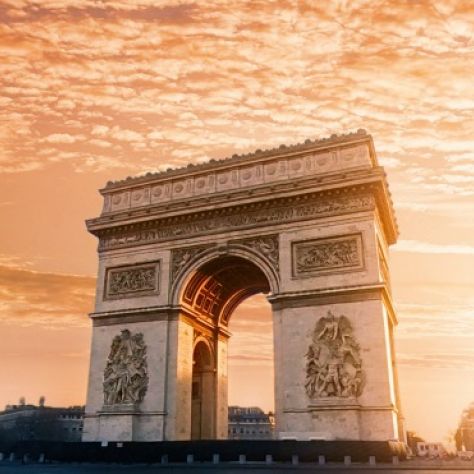 View More Arts and Culture Articles
Join the conversation
You Might Also Like