By Jon Fairbanks
You can get to your vacation destination any number of ways: Air, sea and … most often … land. What do you do when your wheels break down in Los Angeles?
Like poor Dionne (Stacey Dash) experienced in the classic film "Clueless," maneuvering through the LA Freeway system can be a horrific ordeal when your vehicle is working properly, let alone when it's got mechanical problems.
Things have come a long way since 1995, thank goodness for GPS systems!
Most car owners dread bringing their vehicle in to get serviced. There are many reasons for this, but most of the time it's because they are worried the mechanics will charge them too much money or not fix the problem in the first place.
When you're preparing for a vacation you make sure you have all of your essentials: clothes, toiletries, etc. Some people forget to get an oil change or check their fluids before they go. Whether you are planning a trip from San Francisco to Santa Barbara or in my case, San Diego to Los Angeles, make sure your vehicle is properly maintained!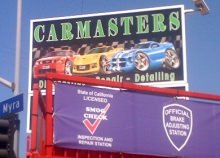 Should you find yourself in a spot where you break down in Gridlock City, USA, aka-Los Angeles, take a piece of advice from a friend of mine who lives in West Hollywood and bring your vehicle to Carmasters.
Having just recently moved to Los Angeles, I don't have a regular shop I bring my vehicle to, so I was relieved that when my brakes unexpectedly gave out on my 2009 Jeep Liberty Sport, I had somewhere to go.
Yes, you can of course Google "auto repair shops" and get a list of garages. Half of them are out of business or look incredibly shady. The rest … who knows? It's a gamble. There are two things that set Carmasters apart. They came with a great recommendation from someone I knew and they are gay and lesbian friendly!
Located in the heart of Los Angeles' other gayborhood, Silver Lake, Tony and Ani will welcome you and treat you like any other customer, regardless of what letter in the LGBTQ-and so one- acronym you represent.
Voted the most honest shop in Los Angeles by FOX11, Carmasters lives up to the title providing top-notch brake, restoration and paint services for customers at a fair and honest price. No this endorsement was not brought to you by Carmasters, just an incredibly impressed and satisfied customer.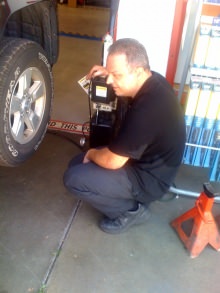 I dropped off my car Tuesday morning and Tony kept me updated throughout the day. The back rotors and brake pads needed to be replaced, that he knew right off.
Later in the day he discovered the do-hickies (that's the Dr. Suess approved term) the brake pads rest on were broken. Rather than charging me $500+ for new ones (ouch), he fixed them at no extra cost. A courtesy I would expect to find at a small town garage in my home state of Vermont, not in the metropolis of Los Angeles. Amazing!
So if you find yourself in a position where you're stranded in the greater LA area take this advice from your friend Jon, save the hassle of searching and bring your ride to Carmasters in Silver Lake.
Join the conversation