Photo Credit: David Roth
So, we all know that South Florida is perhaps the most gay-friendly place in the continental U.S.; however, just when we thought it couldn't get any more gayer, it does something like this . . .
Renowned as the unofficial LGBT capital of South Florida, Wilton Manors, a city adjacent to Fort Lauderdale, has made even bolder strides in Pride with its brand new rainbow emblazoned police car.
According to a recent Sun Sentinal article, "[t]he Wilton Manors Police Department has redesigned a squad car with a giant rainbow – [the] longtime symbol of pride for the LGBT community"—which reads "Policing with Pride."
"'This is our way of supporting our Wilton Manors community that is welcoming to all,'" said Gary Blocker, the city's assistant police chief. "'Each and every day, our agency polices with pride and passion and this car reinforces to our stakeholders that we are stronger together.'"
Though this may be true, Wilton Manors is no rookie when it comes to supporting its LGBT community. In fact, last November "voters elected an all-LGBT commission [ . . . ] a first in Florida elections," not to mention it recently received the top spot on a list of "most in-demand gay-friendly global cities for LGBT travel during the holidays."
Speaking of travel, if you find yourself in the Wilton Manors / Ft. Lauderdale area, catch a glimpse of this rainbow mobile at various community engagements like the rapidly approaching Pride Fort Lauderdale event on Feb. 23 and 24, as well as the Wilton Manors Stonewall Pride Parade and Street Festival held on June 15.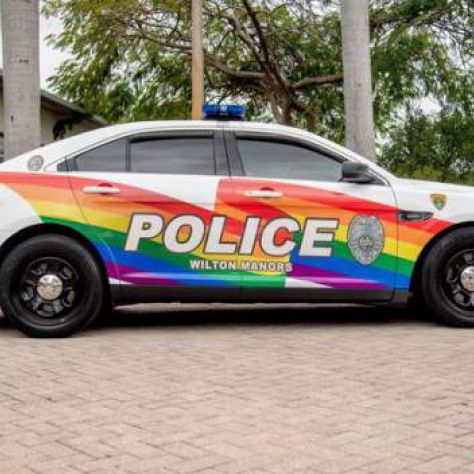 View More News Articles
Join the conversation