At this point in his life, Aaron Albright is two things: (1) a writer and (2) a "Queen St. Farmer." That is the term Kiwis, New Zealanders, use for city folk who move to the country for the lifestyle but who know nothing about farming. Aaron was a professor in Southern California and his husband, Gary Rodrigue, was a vice-president for IBM North America Technology Division. Now here they are on a 40-acre coastal farm with their two dogs, two cats, surrounded by cows, sheep, peacocks (yes, they are noisy but so beautiful) and a donkey named Don Quixote. From Fashion Island in Newport Beach and celebrities on the beaches to……the land of cannibals and flightless birds. Think of them as Ava Gabor and Eddie Arnold in the old TV series "Green Acres." Except they are both Ms. Gabor and both Eddie Arnold—they love both southern California and farm life in New Zealand, five hours from Auckland, and 110 miles from the nearest stoplight.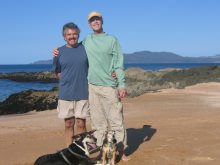 "THE LAND NEAR OZ: Two Gay Yankees Move To New Zealand" is the story of the last seven years of their life together in a sort-of Paradise Down Under and has just been published. It's available on Amazon in paperback and on Kindle.
Reading—writing—teaching- That sums up Aaron's connection to the arts community. Reading has always been his greatest pleasure in life ("well, until puberty—you know what happens then. But even then, reading remained a passion"). And as early as he can remember, Aaron wanted to be a writer. He snuck in the back door, through teaching, as many writers do. Aaron majored in Russian area studies and got his grad degree in linguistics and Russian literature ("I was depressed in college and Russian lit fit like a glove. That famous dark Russian soul: Gogol, Dostoevsky, Tolstoi. And they are the cheerful ones"). Three weeks after he got his A.B., Aaron was in Sierra Leone West Africa with the Peace Corps. Incongruously armed with his degree in Russian, he taught English literature at Njala University Secondary School: Charles Dickens, Shakespeare, and African writers like Chinua Achebe and Wole Soyinka ("when we weren't building a health clinic/maternity ward and introducing new agricultural methods to rice farmers in the surrounding villages").
Next, Aaron taught English in Saudi Arabia for a semester and in Paris for four years. While in Paris, he lived out another dream and also became an actor and was a member of the French actors' union, the Union des Artistes. In his group, Aaron was the only actor who was untrained- but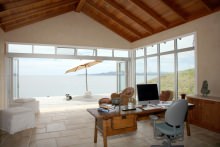 they told him that when you get paid for acting, you are an actor. Eh, voila! The theater plays a strong part in his trilogy, which will be published next year: THE RINGS OF AL-QISMAH. Aaron started off acting at the Duncan Theater at 31 Rue de Seine in the Latin Quarter. It was started by Raymond Duncan, the brother of Isadora Duncan, the dancer famed for her dancing but remembered for her bizarre death because of her long flowing scarves. Enough said. Their director was the grand-niece of Isadora and they were a motley troupe: Americans, French, one Italian, and several English folk from The Royal Academy of Dramatic Arts. After Paris, Aaron went to California and ended up teaching five years at the University of California Irvine and then for a long time, twenty years, at Saddleback College. Writing all the while.
Aaron explains:
"I read in the L.A. Times just this morning that Henry Carlisle died. He was a writer, editor, translator, and publisher. His wife smuggled Solzhenitsyn's manuscripts out of the old Soviet Union and together they translated them into English—Well, some years ago, I attended the Squaw Valley Community of Writers in Squaw Valley, California. I was kindly given a private session with Mr. Carlisle and he was the first professional writer who read a bit of my rough draft of my trilogy. Of course, names were changed and the story was my own story but there was life in the manuscript I guess. The first thing he said to me as I sat down, nervous for his feedback was this: 'The first thing I should tell you is that I met and married my wife in Paris in 1951. We lived for a time on the fifth floor of the Duncan Academy.' So my first critic was a translator of Russian lit, the editor for Albert Camus (my favorite French writer), and a good author himself who lived in 'my' building in the Rue de Seine years before I wrote about it. The entire writing of 'THE RINGS OF AL-QISMAH,' which took place over many years, involved one synchronicity after another like that."
Aaron's book which has just been published, "THE LAND NEAR OZ: Two Gay Yankees Move to New Zealand," is the story of his move to New Zealand seven years ago. In search of their own utopia, a gay couple (that's Aaron and his husband) visiting New Zealand pass a road sign, "PARADISE: NO EXIT," and fall in love with the land and decide to immigrate. Here they find a world of adventure, new wisdom and intimations of their mortality. In the book, there is a beautiful and unique Gay 'wedding' on their beach with their best friends in New Zealand attending, two Lesbian couples.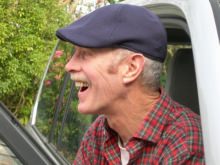 Aaron says, "You can also read about our first and last—and most strange—introduction to homophobia in New Zealand (which is very very rare). It happened on our first day in the country as permanent residents and involved the Archbishop of Auckland and screaming headlines in the New Zealand Herald." And next year's trilogy also has two main characters who are Gay. It follows Sawyer Aaron Summerfield from his Gay Prince Charming in Saudi Arabia to his escape to Paris and the world of the theater and Johnny Stamps, the Gay stage manager of the Onion Academy. In fact, the book has L and G and B and T characters. Just like the real world.
For more of Aaron and his globe-trotting adventures, visit his many online venues: www.aaronallbright.com,http://www.tumblr.com/tumblelog/aaronallbright,
www.thelandnearoz.com, and http://aaronallbright.blogspot.com/. You can also follow him on Twitter at
https://twitter.com/#!/AaronAllbright. All royalties are going to The Trevor Project ( http://www.thetrevorproject.org/ )- Aaron is passionate about the work they are doing, providing crisis intervention and suicide prevention services for LGBTQ youth.
Favorite LGBT bar/club: "Since we live on a farm five hours north of Auckland and our closest neighbor seaside is Australia (Down Under, everyone calls it 'Oz'), I would like to say my favorite Gay everything is Sydney! What a city! A world-class city. And a world-class Gay city. The Sydney Gay and Lesbian Mardi Gras lasts for three weeks (the next one is Feb.–March 2012). And Midsumma Melbourne is in January and the Adelaide Feast Festival is in November. There is something to look forward to all year long. Any season is a good season to travel to Australia. And then there are the Aussie lifeguards (yep, everyone Down Under pronounces it 'Ozzie' lifeguards). Just looking at them, you would say they are true Wizards. And Byron Bay south of Brisbane is our favorite beach place in Australia and the sexiest beach in the world. In New Zealand, the best Gay thing going is probably the Gay Ski Week in Queenstown. Queenstown was where we fell in love with NZ and decided to move here. Of course, it's held in the middle of winter—July! Everything is upside-down here, even the seasons are backwards. Which makes it convenient if you want a get-away from the summer or a get-away from the winter where you are up on top in the northern hemisphere—just come Down Under to Australia and New Zealand, to 'Oz' and 'The Land Near Oz,' and you'll have the opposite season from the northern hemisphere. Clever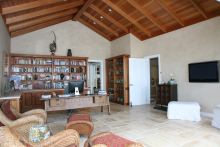 Favorite thing to do: "Since we live on a coastal farm, our favorite thing to do is to walk the beaches of Doubtless Bay. We can walk out our door and down to our beach, and then walk around the rocks to a 20-mile-long beach. Usually we walk with our dogs, our grrrr-r-rls, six miles a day from our place to the Aurere River where it pours into Doubtless Bay and sometimes we don't meet another soul. And there is Puheke Beach just fifteen minutes away. No houses, no cars, no people. Simply miles of the most beautiful sand and water in the world at the end of a gravel road. Great fishing, scallops, and we have seen orcas breaking the surface just offshore. And dolphins galore. We love to walk with the dolphins. The northland of New Zealand is just one long empty beach after another, each one world-class."
Insider's tip: "Here's the best tip for LGBT visitors to the Far North of New Zealand and you will read about it in my book more extensively. Del and Fiona own the Mill Bay Suites in Mangonui, one of the two most beautiful and most beautifully located villages in all of New Zealand (the other village is Russell, just an hour south of us). It is a reasonably priced accommodation, clean as can be and has a view of Mill Bay which reminds me of Cabot Cove in the old TV show, 'Murder She Wrote.' Peaceful, idyllic, with sailboats moored out in the safe harbor of Mill Bay.
In my book, I describe the wedding guests that Beau and I had under the tree on Vara Prasada Beach:
'Del and Fiona are another lesbian couple (boy, I'm really asking for trouble from those bored and tortured straight souls on the Isle of Lesbos) from right here in Doubtless Bay, from Mangonui, in fact. They are the ones who originally introduced us to Pip and to the Miss Mangonui Beauty Pageant. Del and Fiona run the Mill Bay Suites Motel in Mangonui and if you come to Doubtless Bay, you must stay there. We call them the Mill Bay Sweets. From their place, you can walk to the village and to the Waterfront Café (which does breakfast, lunch, and dinner as well as, if not better than, any fine restaurant in Auckland and is much cheaper, of course). And Del's and Fi's rates are reasonable, and the units are Japanese-clean.
These two have been together for twenty-some years and although Del is from Boston via L.A. and Fiona is from Ireland, they met in Japan, where they taught at an international school for twenty years before immigrating to New Zealand. We believe Del was a geisha for many lifetimes past for she loves nothing more than being a perfect hostess and making sure that her guests and friends always have anything and everything they could possibly dream of wanting: food, drink, music, conversation, kindness. Fishing rods and tackle.
Fiona plays the guitar and sings. They are two of the kindest souls you will meet anywhere.'
I would like to say that if your readers tell Del and Fiona that they have read my book, they will invite you upstairs into their home for a happy hour, but the truth is 90% sure they will have you up for that happy hour even if you haven't read the book!"
Join the conversation