By Sophie Needelman
Contributor
Chris and Kristen are full time artists, and they own the Wet Paint Gallery at 430 Duval St. in Key West, FL. They love the One Human Family philosophy that Key West truly embraces: "we are all in this together, and our world is so much richer with our different paths interwoven". Chris and Kristen are both self-taught artists. Prior to transitioning to art full time, Kristen's business career prepared her well for gallery ownership, and she tells us "it's been great to be able to do what we love, and have that work sustain us".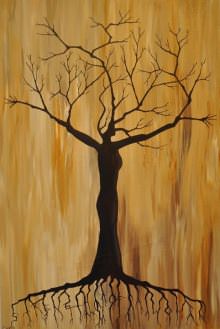 Chris is working on a series of freestyle work and in each piece, she includes the HRC equality symbol. She also uses a lot of imagery that affirms the strength of women. In her piece, A Woman Rooted, the roots of the tree spell Strength of a Woman. Sunset Grey is just another example of Chris's work that includes the pride colors, and we each have several creations that tie in our colors of pride. NO H8 was an homage to the NO H8 campaign of course, and Shapes is a very direct image of female: female love. Kristen is also working on an A-Z figure series, and each letter of the alphabet has a pairing. While many of the pairings are male and female, she chooses same sex couples from history to represent the GLBT community, and includes MTF and FTM figures as well.
Kristen and Chris were married in the state of NH in 2010 before moving to Key West. They get visitors from all over the world, so they say it is interesting when they refer to each other as wife. Kristen explains: "Chris's name is gender ambiguous, so most people assume we are a heterosexual couple when they readour names. We have had many gentle teaching moments in our gallery of how a woman can be married to a woman. Being from thenortheast, we often forget that some parts of the US and the world are still catching up. GLBT equality has come SO far in the past decade, I have to remind myself that we are minority sometimes, and that's how I choose to live. I think one of the best things anyone can do, artist or not, is just to always live unapologetically out of the closet. As artists and business owners, we are always out, and we participate with the Key West Business Guild, which is the GLBT business group down here, and the group every business wants to be a part of! Also, we often include GLBT imagery in our work. The more people see us and see the way we love, the more understanding that can be fostered. We naturally fear what we don't know, so Chris and I use our art as a vehicle for others to get to know who we are, in all areas of our lives".
To see Chris and Kristen in action, go to the Official Fantasy Fest Kick Off Opening at Wet Paint Gallery on the 21st of October from 8 until midnight. On the 29th of October Wet Paint Gallery will be hosting the Fantasy Fest Promenade Party, where complimentary beverages and refreshments will be served and a Freaky Photo Booth will available for your Fantasy Fest memories! Wet Paint Gallery is at 430 Duval St., in Key West, FL and can be accessed online at www.wetpaintkeywest.com. More of their work can be seen at www.hothamcarrollarts.com and www.facebook.com/wetpaintgallery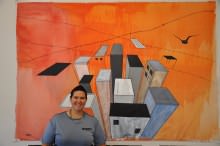 Favorite LGBT (or LGBT friendly) bar/club? "I haven't been to any bar or club in Key West that isn't LGBT friendly. Some great spots to check out are Salute (cocktails right on the beach, GREAT happy hour specials daily 4-7), Pearl's Patio (mainly for women, but all are welcome) for poolside cocktails as well as live entertainment, 801 and Aqua have lots of drag shows, Bourbon St has an awesome outdoor bar area, but it's boys only except on Tuesdays….Virgilio's has fantastic martini's, Rick's Tree Bar has the best Bloody Mary's on the island, and if you stop by on Sat or Sun from 12-6, you get to meet Ramey, one of the best bartenders EVER!"
Favorite thing to do? "Key West is a great island for walking - you can pretty much walk anywhere easily. We love to just walk downtown from our house and stop in the shops and galleries, have a cocktail here and there, people watch, and cab it home. Kidding. I love all the outdoor activities here - kayaking, jet skiing, paddleboarding, swimming, shopping - it's just a great, fun, small town with lots of color and tons of spirit."
Insider's tip? "Chase the happy hours! All tourist towns can be very expensive, but you can do Key West on a budget for sure! Also, Small Chef at Large that operates out of the VFW has amazing food for ridiculously low prices. Say hi to Tommy at the bar, and tell them Wet Paint sent you."
Join the conversation