As a gay artist, it is Timothy's intention to present a visual message that affirms anyone can enjoy the serenity of community, be an example and a role model, and share a personal vision of the whole regardless of lifestyle or creed. As a student of mysticism, Qabalah and Hermetic creed since 2005, Timothy Bruehl discovered previously incomprehensible truths from within that he once sought (and/or repressed) through a chemical means. From dark depths sprung the 'kingdom' or spiritual and esoteric reference to the work "500 Kings in 500 Kingdoms". It's a personal Odyssey that seeks to counter the categorical vilification of homosexuality with a "one world" vision that happens to come from the perspective of a gay man.
The "500 Kings in 500 Kingdoms" project is an on-going series of (to date: 60) 24x48, acrylic and mixed media on panel paintings, working toward a goal of 500 that will together form "One Piece" or "One Peace". Timothy and his "500 Kings in 500 Kingdoms" project were featured during 2011 San Diego Pride Week in a local, alternative news and arts periodical: http://www.sdcitybeat.com/sandiego//article-9268-epic-intentions.html. The 2011 theme "Pride Around the World" seemed the perfect opportunity to "come out" as an artist to the local community and hence was his personal tribute to SD Pride. The Kingdoms have also been featured in numerous HIV/AIDS clinics and periodicals. Arts & Understanding Magazine (A&U, June 2010) featured the Kingdoms during the 2010 International AIDS Conference in Vienna via their first international edition.
Timothy would like the work to ultimately define a singular, cohesive community that considers every walk of life an integral and progressive part of the 'whole'. His hope is to capture an audience that looks upon the symbols of modern society with a sense of pride, whilst attempting to create a new and cleansed view of the familiar and ordinary and communicate, through creative interpretation that our existence is more the same than different. In exhibitions, magazine articles and webzines across the US, in Canada and parts of Europe the following 'mission' statement evolves to explain his focus: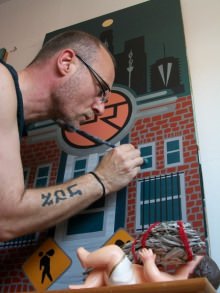 From mysticism and mythology to rank in zoological nomenclature, the term 'kingdom' conjures many dimensions of purpose. The "500 Kings in 500 Kingdoms" project is an attempt to bolster a global identity of solidarity that transcends nationalism, classism, racism, orthodoxy and sexual nature. It's meant to illustrate that "the whole is greater than the sum of its parts" and that cooperation and collaboration is essential to human evolution.
Timothy has a BA in General Studies from the University of Minnesota – Minneapolis, which was designed with a studio art and urban studies focus. "Improving Relations among Cultures in Urban America" was his senior thesis. Currently working the front desk of an art museum (MCASD) part time, he exhibits original work and prints from the "500 Kings in 500 Kingdoms" at community theaters, galleries and cafes in Southern California and in magazines and periodicals both locally and internationally.
To see Timothy Bruehl's work in person, check out Twenty Six – An Art Show and Art Installation. The 10th Avenue Theatre and Arts Centre is proud to present a new art show and art installation, curated by resident artist Gerald Montoya. "Twenty Six" features works by six local artists, including Timothy. The show will run in concert with Mo`olelo Performing Arts Company' s production of " 26 Miles", Sept. 29th – Oct. 23rd in the 2nd floor gallery of the 10th Avenue Theatre and Arts Centre, located at 930 Tenth Avenue, San Diego, CA. 92101. An artists' reception will be held, Sunday, October 2, 2011 at 6:00 pm. For more information visit www.tenthavenueartscenter.wordpress.com
To access Timothy's website, visit www.artistincalifornia.com
Timothy shares his insights about San Diego with us:
"In lieu of a 'favorite San Diego LGBT place', I've instead chronicled a trip through its neighborhoods. Everyone knows and I'll confirm: San Diego enjoys year-round, sun-filled days and cool, mild evenings. San Diego has a reputation for, and in fact is, also a very tolerant city. With the obvious exceptions, there are few 'businesses' that a member of the LGBT community would feel uncomfortable patronizing. The LGBT nerve center or the "Hillcrest" neighborhood resembles a compact Melrose. It's cool to just grab a cuppa joe at "Filter Coffee" and stroll down University Avenue to take in the hip shops, taste-of-the-world cuisine and rainbow adorned corner bars always abuzz with inviting, relatively attitude-free, laughter. Hoof it just a few short blocks south to what the locals call the "crown jewel", Balboa Park, which bustles with activity regardless of race, creed, sexual preference or sundry wardrobe!
If your desire is to experience what ticks beyond the gayborhood, you'll be pleasantly surprised in San Diego. It's not unusual in the central neighborhoods of North Park, University Heights, Normal Heights (and the quickly burgeoning South Park) to see a diverse community enjoying one another's company. It's always a liberating experience to walk along Adams Ave in my neighborhood of Normal Heights enroute to my corner "Visual Art Supply" store, which frequently doubles as a gallery for local shows. Walks of life from around the world mingle with LGBT, watering their lawns and, walking their dogs engaging in small talk or politely waving. When there's not a music, art or book festival along Adams, the local ale houses rock with local music and merriment and the scent of espresso roast billows from the 24 hour Lestat's Coffee House (a popular neighborhood favorite for as long as I can remember). Finally, it would be a mistake for any visiting artist or textile connoisseur to miss Adams Avenue 'Discount Fabrics", housed in an old movie theatre which announces itself with the vintage marquis that darts out over Adams. From already gessoed rolls of canvas to imitation rainbow fur and an upstairs scrap area where I've found vintage, red glittered vinyl and swatches of leather and strings of feathered boa. An LGBT wonderland a few weeks before Halloween, or for that matter, any night in San Diego!"
Join the conversation