Gay Urban Resort to Open on 42nd Street in the Heart of Manhattan
Amidst growing advances in New York's LGBT community, Parkview Developers announce plans to open New York City's first gay hotel, THE OUT NYC. This gay urban resort is poised to become a travel and entertainment destination for gay New Yorkers and tourists alike. The complex, situated on 42nd Street between 10th and 11th Avenues, will encompass a 105-room boutique hotel, the 11,000 square foot XL NIGHTCLUB, lounge & cabaret by John Blair, Beto Sutter, and FV Events, a late-night restaurant called Kitchen 510, three courtyards, a business/conference center, function space, and a wellness center.
The first phase of the project is set for completion with the opening of XL NIGHTCLUB, lounge & cabaret in January 2012. XL NIGHTCLUB, lounge & cabaret is the newest project by noted gay nightlife impresarios John Blair and Beto Sutter, and the wunderkind party promoters Brandon Voss and Tony Fornabaio of FV Events. Blair and Sutter, famous for the legendary Saturday night party at The Roxy, helped create this new venue from the ground up. Open seven nights a week, XL NIGHTCLUB, lounge & cabaret is the first nightly gay dance club to open in New York City in the last 15 years. The space will feature an LED wall, two dance floors, and a full stage.
Subsequent phases of the project include the boutique hotel slated to open in March of 2012, which features 105 rooms with an upscale, chic décor and a starting rate of approximately $250. Kitchen 510 will be operated by the team behind the already-successful Hell's Kitchen favorite, Eatery Restaurant. It will offer the same style of upscale comfort food for which Eatery Restaurant is famous. THE OUT NYC will host various types of function space to accommodate everything from intimate private dinners to large events and weddings. The building will be centered on three courtyards and a 5,000 square foot wellness center, creating an oasis from the city just outside its doors.
"This is an idea whose time has come. What makes THE OUT NYC a gay hotel is the comfort level and tailored amenities for the community," said Ian Reisner, Managing Partner, Parkview Developers. "THE OUT NYC will become a 'can't-miss' for gay tourists as well as the epicenter of gay life for LGBT New Yorkers. With New York's recent legislation, we look forward not only to hosting countless gay couples, but marrying them as well."
MORE ABOUT THE OUT:
THE OUT NYC is New York's first gay urban resort. Opening Winter 2012, it's a destination for gay travelers and a social epicenter for the local gay community — a place where gay people, their family and friends can experience the best of lodging, nightlife, food, drink and design. They've got a great space in the heart of New York City's Hell's Kitchen, and they are getting ready to start the party of a lifetime with you. Come from anywhere and stay for as long as you like.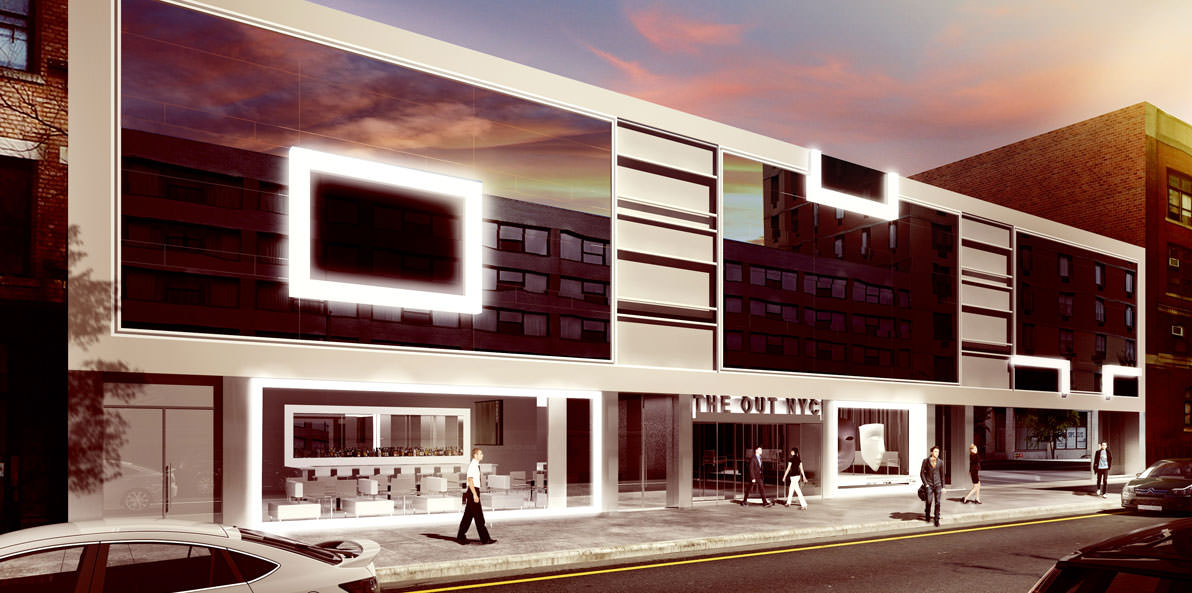 THE OUT NIGHTLIFE:
XL NIGHTCLUB Opening this winter at THE OUT NYC, XL Nightclub is New York's most highly anticipated nightlife venue. Brought to you by club legend John Blair, XL is the place to get out, rock out, or hang out with an after-work drink. They've got 14,000 square feet of high-tech party space—including a lounge, a nightclub and a cabaret stage that has scheduled events seven nights a week.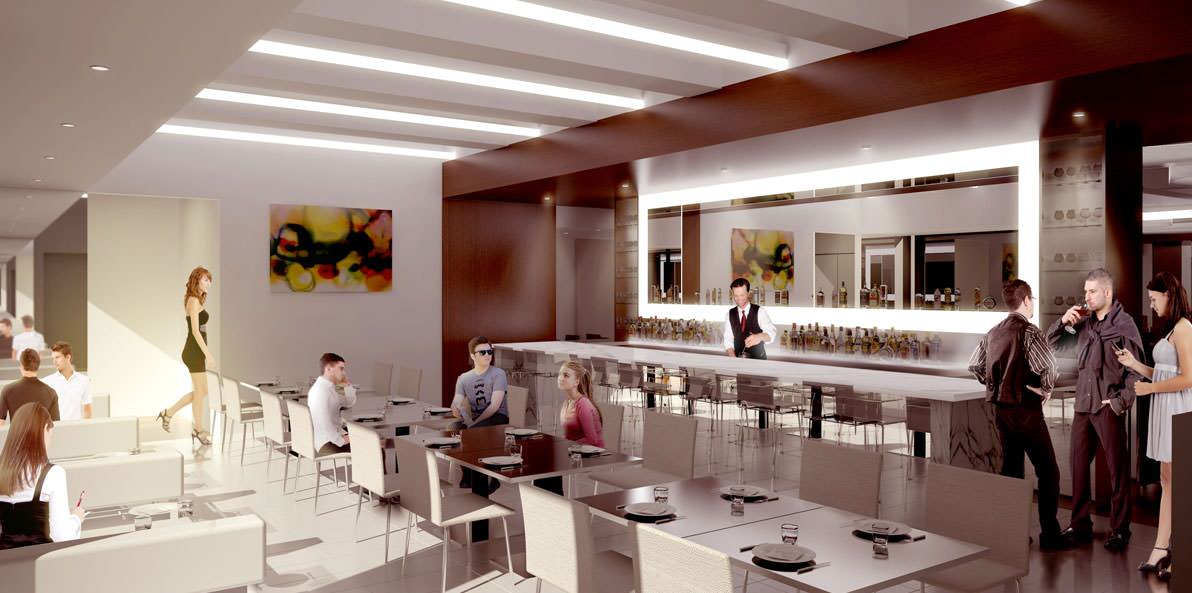 THE OUT DINING:
KITCHEN 510 Great crowds. Great food. Great service. Come for brunch, lunch, dinner and late-night dining at Kitchen 510, where the executive chef serves New American classics. Brought to you by the founders of the famed eatery nyc, get social with large communal tables. When it's warm, let them pack you a picnic to eat in the hotel courtyard, or get cozy anytime and we'll deliver to you in your room.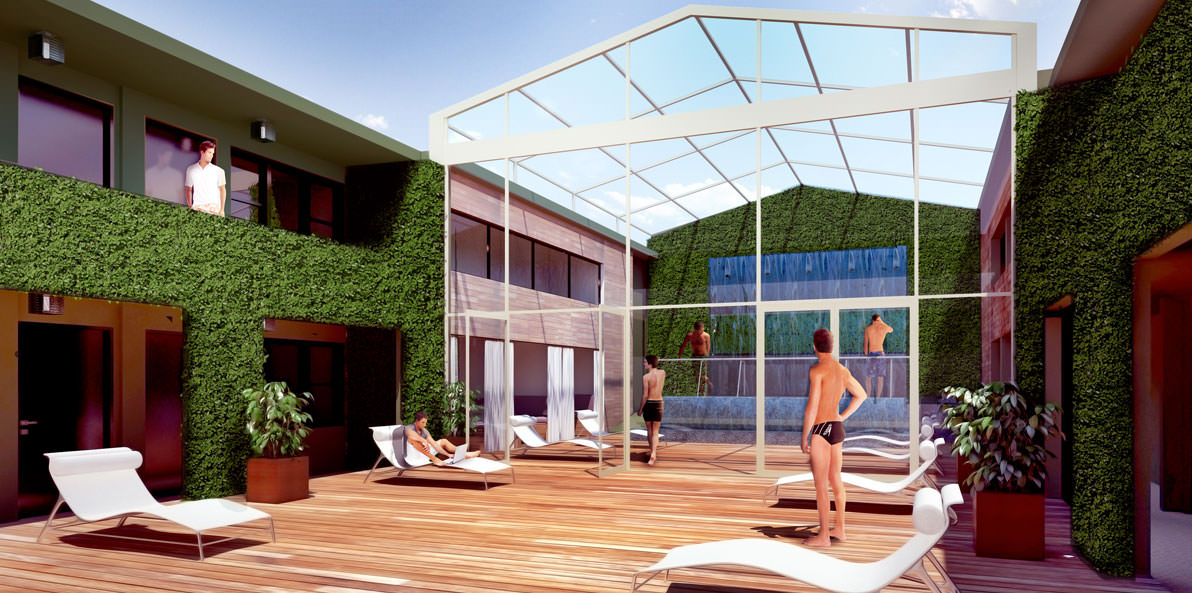 THE OUT COURTYARDS:
COURTYARDS Whatever your mood, they've got an outdoor space for you. It's what makes THE OUT NYC a true urban resort.
The Sun Deck: If you want the perfect place to get your tan on or watch an amazing sunset, there's no need to go outside the city. At The Sun Deck, Fire Island meets Manhattan, where boxwood and stucco surround an ipe wood sunbathing deck. Along one side is a glass reflecting pool with a water room enclosed by cascading curtains of rain.
The Secret Garden: The Secret Garden is tucked inside serene plantings of black bamboo. It's a quiet place to bring your laptop and a snack. Work or read at our long sturdy tables. It's also the right place to bring your yoga mat for quiet meditation.
The Great Lawn @ THE OUT. Who needs Central Park? Their Great Lawn offers everything you need to enjoy the great outdoors. The grass is green. The beanbag chairs are soft. There's enough green space on the Great Lawn for outdoor games or events. With a hilled stage at the north end, it's the perfect place for a wedding ceremony, cocktail party or press junket. And whatever the occasion, Kitchen 510 can be there to cater your every culinary need.
Information and Photos Courtesy of http://www.theoutnyc.com/
Join the conversation