Barcelona - the city of hot Spaniards and late nights. As the second largest city in Spain, Barcelona is one of the best cities if you're looking for a gaycation that will keep you going from morning to night! Although you could easily fill your time with all the tourist attractions in this town, I often opt for experiences and interactions with the locals. So whether you arrive by air or boat, if you're stopping in Barcelona, here are a few experiences that will be well worth your time!
Aire de Barcelona - Arab Bathhouse
If you're going out in Barcelona, then you know the bars don't get going until 12 a.m. and stay open until the wee hours of the morning. Depending on how hard you hit the town the night before, you may need a little revitalization the following day. Aire de Barcelona is a great way to kickstart your morning before heading out for another day to explore the city.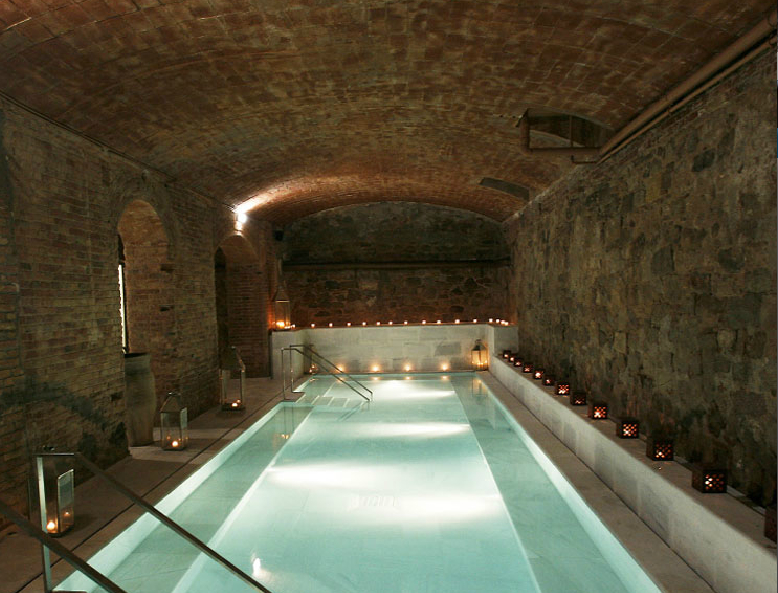 For $37 to $53 USD, you can start your morning off by immersing yourself in the ancient hot, warm, and cool baths and then continuing your journey through the steam, aromatherapy, and tea rooms, ending with a nice 15-30 minute massage to get you going for the day. Bathing suits are required, but you'll quickly realize this experience is nothing short of amazing. For additional information, or to make a reservation, visit www.airedebarcelona.com.
Local Flavors at Barcelona's Mercados
Whether you decide to eat at the Mercado, or grab some food to take to the beach, Barcelona's markets are filled with extremely fresh treats. There are multiple mercados around Barcelona. If you're coming from Aire de Barcelona (El Born District), we recommend you visit the Santa Caterina Mercado (which is also in the El Born District).
A modern take on one of Barcelona's oldest establishments, this mercado will provide you with a delicious selection of fruits, cheese, meats, and produce to pack a great picnic. If you're not sure what to get, just ask one of the vendors "Que comida hay de temporada?". That's spanish for "what's in season?" For additional information on the two best mercados, visit www.mercatsantacaterina.net or www.boqueria.info.
Beaches
Situated on the Mediterranean coast, you can access some of Spain's best beaches by jumping on Barcelona's Metro rail (www.tmb.cat/en). No matter your mood, or energy level, there's a beach that will match you. Here are my three favorite beaches if you're looking for a fun, chill, or just plain gay experience:
At the epicenter, and Barcelona's quintessential beach, is Vila Olimpica on Costa Garraf (Metro Yellow Line). Perfect for the relaxed or energetic beachgoer, this is one beach you'll want to make sure you visit while in Barcelona. Here you'll find a variety of restaurants, shops and clubs, as well as a cinema, casino and marina. It's located just South of the Olympic Village, which was held in Barcelona during the summer of 1992, so you can even explore all the gorgeous architecture before or after the beach.
If you're looking more for a relaxing day at the beach, then Altafulla on Costa Dorada is the beach for you. If you're traveling by train, you'll want to take the Renfe train which departs from Sants Estació. But a quick word of caution - be ready to exit quickly when you arrive in Altafulla, as it's an easy stop to miss. If you're coming from Barcelona and arrive in Tarragona, you've gone too far!
And if you're looking for the queen beach, then look no further than Sitges on Costa Dorada! This gay beach town has so much to see and do, you may want to bring a change of clothes incase you decide to stay and party. You can take the Renfe train, which departs from Passeig de Gracia. Depending on how long you'll be staying in Barcelona, you may even want to spend 24 hours exploring Sitges! This town has it all - shopping, restaurants, clubs, and plenty of eye candy!
Flamenco Dancing
A crowded room, one small stage, people standing on chairs just to see, and one of Spain's oldest art forms, flamenco dancing was first introduced in Spain around 1774 and still draws locals and visitors into bars all around Barcelona.
Although the female flamenco dancers, with their sensual moves, may appeal more to lesbian travelers, this is an art form that will draw anyone in and have you crawling on top of the person in front of you just to see the excitement. My favorite flamenco bar is Tablao de Carmen (http://Tablaodecarmen.com), but you'll more than likely come across multiple flamenco bars while walking the streets of Barcelona. If you see a door, with people spilling out, just poke your head inside and there you'll see the excitement!
Hotel Axel
Being the primary gay boutique hotel in Barcelona, it's pretty hard not to hear about Hotel Axel if you're visiting Barcelona. As a tourist that only speaks a little spanish, I found the Skybar and Pop Bar at Hotel Axel were great spots to grab drinks and meet a few other gay travelers before heading out on the town.
One of my mottos in life is "the more the merrier!" I always find it fun while traveling to team up with a few other travelers to explore the city. Even if you don't know where to start, the concierge and guests at Hotel Axel will point you in the right direction. To learn more about Hotel Axel, visit www.axelhotels.com/barcelona.
There you have it, the perfect Spanish gaycation - rest, relaxation, food, and fun. That's what the warm, friendly Spanish culture is about!
Join the conversation
For more like this sign up for our newsletter