In May 2018, a new company called VACAYA launched a fresh approach to LGBT travel. VACAYA, pronounced /vuh kai' uh/, charters entire cruise ships and resorts so that LGBT+ travelers have the freedom to express their individuality, make personal connections, celebrate life, rev up, or simply relax… together.
"We're rewriting the playbook," proclaims VACAYA CEO Randle Roper. "With only a few notable exceptions, options for our community have been severely limited. Now, LGBT+ travelers have a rock solid new choice. VACAYA is the first US-based large-scale full-ship/resort LGBT+ vacation company exclusively for adults to launch since 1991. Consumers have waited a long time for a guest-focused company like VACAYA to come along, and we can't wait to share all we have in store!"
Here are the top 5 ways VACAYA is different from the rest:
1. NEW DESTINATIONS & CASUAL LUXURY: VACAYA is focused on creating memorable bespoke travel experiences to new destinations and providing a level of luxury that hasn't been previously offered by others in the LGBT travel space. VACAYA is already breaking the mold in regards to destinations, with a never-before-seen all-gay itinerary to Ptown on Celebrity Summit, sailing August 11-18, 2019 from New York's Port Liberty. And in regard to casual luxury, they're offering an all-inclusive resort experience at The Leading Hotels of the World's UNICO Riviera Maya, October 27 – November 2, 2019, over Halloween and Day of the Dead.
2. YOUR TRAVEL SAVVY COMPANION: VACAYA was founded by a team of award-winning executives with nearly 100 years of combined experience in entertainment, hospitality, and travel. VACAYA will offer LGBT+ travelers an unprecedented and maniacal guest focus, perfectly tailored to the needs and desires of the LGBT+ community. Vacayans (that's what their team is called) are real people – people who care, who listen, who do the right thing, and who act as their guests' travel savvy companion. Chief Operating Officer John Finen shared, "At VACAYA, we understand what's important to travelers – fun, friends, adventure, and clear timely communication, all cornerstones of any great vacation. We believe in a traveler's right to actually plan their vacation, so our guests will know party themes and entertainment many months before we ever set sail. We strive to provide our guests with all the tools they'll need to have a great time. After all, this is their vacation and it should be a stress-free experience. No worries. No concerns. Just ease and fun at every turn. And the best part is that travelers can book with us 24/7/365 from their phone, tablet, or desktop from anywhere in the world in a matter of minutes."
3. ALL ARE TRULY WELCOME: VACAYA believes that life begins at the edge of your comfort zone. So they create a warm environment where ALL who believe "love is love" are welcome. You don't have to be the son of Zeus coming down from Mt. Olympus to travel with VACAYA (but of course, those guys are welcome, too). At VACAYA, mere mortals of all shapes and sizes come together to celebrate the great diversity within our community. Traveling with VACAYA is all about being completely comfortable in your own skin. No matter where you fall on the LGBT+ spectrum, and no matter whether you're single, coupled, black, white, skinny, thick, or even straight, you'll easily find a welcoming tribe within the VACAYA universe. Add to that the safety that comes with being part of an undeniable majority (even if only for a week at a time) and VACAYA becomes a blissful utopia.
4. BALANCE: VACAYA truly views their experiences as vacations. They believe in balance – giving guests the chance to celebrate with their friends, explore the fascinating regions visited, and occasionally enjoy a siesta. And The Vacayans certainly love a great party and, with their experience, will produce some of the best parties at sea, but there won't be all-night ragers every night of their cruises/resort holidays. Balance is key. We at GayTravel.com love that VACAYA is taking extra care with the community through their proactive approach to the Circuit Party scene.
5. PHILANTHROPICALLY MINDED: We are also especially pleased to call out VACAYA's philanthropic efforts. VACAYA's commitment to giving back to the community is reflected in their mission to make a difference. To that end, VACAYA has two ways they will make an impact both locally and globally. First, by partnering with local organizations, VACAYA's ReachOUT program will offer guests an opportunity during their vacation to give back to the communities visited – either with a bit of sweat equity or financially. Second, as an independently-owned business, VACAYA will support causes that impact the LGBT community in a positive way. VACAYA's Cabins for Causes program will donate cruise rooms to worthy causes of their guests' choosing. From time to time, VACAYA will hold nominations and elections that involve their guests to guide their charitable giving.
To celebrate its debut, VACAYA is offering Early Booking and Student Pricing, and a Best Rate Guarantee at https://www.myVACAYA.com/offers/. For more information, visit https://www.myVACAYA.com.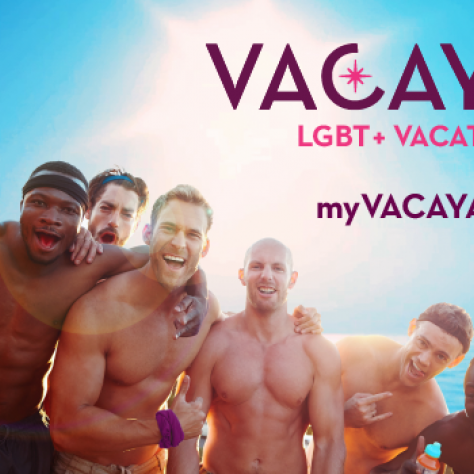 Join the conversation