By Sophie Needelman
Contributor
Aspen, Colorado is notorious for entertaining the upper crust of the skiing community- but not just during the wintertime. This adorable mountain town not only provides its often-famous residents a winter wonderland to escape to, but also offers tourists a taste of the Rocky Mountain lifestyle, in style and all year round. Aspen is one of the best ski areas in the world, and draws in hoards of winter vacationers once the snow falls. Aspen in the off-season is still very much "on" though; hiking, kayaking, biking, and other outdoorsy activities beacon visitors during the warmer months in the Rockies. The best part about this mountain town? Getting to enjoy the ambiance of the beautiful lodges regardless of what the weather may be, with a (preferably caffeinated or alcoholic!) drink in hand. For the LGBT community, the time to make this Aspen fantasy a reality is during Aspen Gay Ski Week.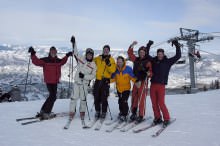 The next Aspen Gay Ski Week happens January 15th-22nd, and its theme "Aspen through the Years" celebrates the 35-year history of this event that brings the skiing gays together in the beautiful Aspen atmosphere. Each day will include skiing and snowboarding on one of the four featured mountains led by a (hopefully hunky!) local guide. All levels of experience will be accommodated so don't be intimidated- hit the slopes! Get your grub on at lunch on the mountain each day; this is also a great opportunity to mingle and meet some fellow gay skiers!
Aspen Gay Ski Week's Opening Party will be kicked off at the Baldwin Gallery in downtown Aspen, featuring food from the local favorite: Caribou Club. After this initial shindig, a different Aspen restaurant will serve as the main eatery each night. Once you've been refueled, various parties that will surely give you a run for your money if you're not already sore from the slopes! They are catered to various personalities and energy levels though so this is a great way to dance those muscular kinks away. Monday night's party is a retro blast from the past at the Hunter Bar, one of Aspen's best-kept secrets. Escobar hosts Tuesday night's party, so be sure to check out this gem to get a fix of some local Aspen flavor. Boutique night on Wednesday night features various local retailers who leave their doors open for you to party and shop til you drop. Demented Divas will keep you rolling on the floor laughing on Thursday night, spicing up the cold winter air at the Belly Up Aspen where you can then dance the rest of the night away. The highlight of the week is the costume contest happening on Friday night. To honor the theme "Aspen Through the Years", adorn yourself in decade-specific costumes. There will be winners in each category: the 70's, 80's, 90's, and Today. The grand finale of Gay Aspen Ski Week is the Saturday pool party, where all of the gay skiers will be in the same place at the same time- and this place happens to be a pool with a water slide, fountains, lazy river, and steam rooms. Need I say more!? And if these festivities aren't enough to fill your downtime, check out local gay-friendly retailers for some prime shopping, local eateries for some taste-bud stimulation, and the Apres Ski Hot Tub Parties that happen every day in the Limelight Lodge from 3-7… see? You CAN wear speedos all year round!
If you are as excited as we are for this epic week of events, start planning ahead now to be able to take full advantage of this lineup of festivities. Purchasing an event pass for the week isn't required but is the cheaper than buying individual event passes- which is great because you won't want to miss out on anything! Be sure to reserve lift tickets and ski or snowboard rentals ahead of time so your transition from traveling to getting on the slopes can be as seamless as possible. Also, don't forget to book your hotel room too- starting with the Limelight Lodge, this year's host hotel. Aspen Gay Ski Week continues to go down in history as a premier event of the winter season. There is no better place to celebrate two of the coolest things (winter and being gay, of course!) with fellow members of the LGBT community. Be sure to get to this highlight of the winter season before things heat up so much that the snow melts!
Join the conversation
For more like this sign up for our newsletter