This 2018 will jump start with 5 amazing LGBT festivities that you can't miss! Is not only during summer where all the cool things happen; Winter also has a well list of great celebrations, around ski towns across the world, for open outdoor enthusiasts ready to ski and snowboard. Many of these resorts cater specifically to the LGBT community by hosting gay ski weeks for those looking to thaw themselves out until Pride Season. Below are a sampling of just a few of the best gay winter event destinations in the world.
Aspen Gay Ski Week—January 14-21, 2018 in Aspen, Colorado
Grab a cocktail and strap on your boots: Aspen Gay Ski Week is the original gay ski week in the United States. Now entering its 40th year, AGSW is the largest and most famous gay ski party, featuring an entire week's worth of parties and events. Between drag shows, concerts, a downhill costume parade, comedy shows, and more, it is impossible to be bored during AGSW.
Winter Rendezvous—January 17-21, 2018 in Stowe, Vermont
As the longest-running gay ski week in the Northeast United States, Winter Rendezvous attracts a diverse crowd to the 40 miles of pomp and powder. Featuring an ice sculpture carving contest and an indoor pool party, Winter Rendezvous is fabulous fun for skiers, boarders, and those simply looking to warm up by the fire in the lodge.
Whistler Pride—January 21-28, 2018 in Whistler, British Columbia
Two hours north of Vancouver, Whistler is an amazing winter destination for any skier or boarder. And with North America's largest vertical drop, it is easy to understand why people flock here from all over the world. Whistler Pride is a week-long party full of themed events and pool parties. Join people from more than 25 countries for this year's festivities.
Telluride Gay Ski Week—February 24-March 3, 2018 in Telluride, Colorado
An 8 day extravaganza of snow, food, drinks, dancing, and fun, Telluride Gay Ski Week is the younger, scrappier cousin of Aspen Gay Ski Week. Between the karaoke parties and the closing pool party at the Peaks Resort, Telluride is a dream come true for anybody looking for a fun-filled winter party in the middle of the Colorado Rockies.
Swing: Switzerland Gay Ski Week—March 3-10, 2018 in Lenzerheide/Valbella, Switzerland
Founded in 1992, Switzerland Gay Ski Week has become a staple of European gay and lesbian winter parties. The Euro flair is strong amongst the Swiss, and if you aren't a skier or boarder, Swing features plenty of other activities for you. Enjoy Turkish baths, a sauna, fondue parties, movie nights, and snowshoeing.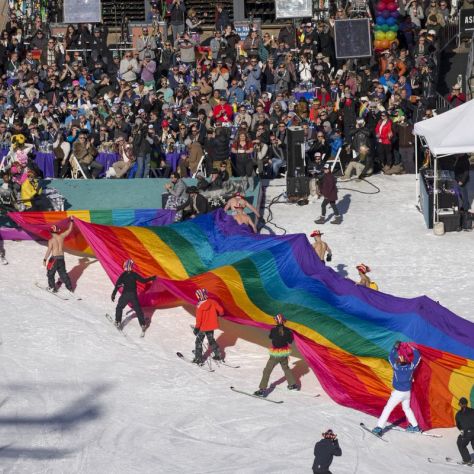 View More Arts and Culture Articles
View More Event Spotlight Articles
View More Gaycations Articles
Join the conversation
You Might Also Like