Gay Friendly Elan Hotel
The Élan Hotel in Los Angeles, California boasts a cutting-edge address at the crossroads of Beverly Hills and West Hollywood near the hottest spots in Los Angeles. This boutique hotel blends contemporary design with desirable function for a guest experience steeped in convenience and comfort. From their inviting lounge with eco-friendly bamboo flooring and plush seating, to sleek rooms and suites, complimentary expanded continental breakfast and an evening hosted wine reception in our lobby, the Élan Hotel offers the perfect home-base for business or pleasure when visiting the Los Angeles area. The Élan Hotel also offers an excellent central location at the cutting edge of West Hollywood , adjacent to Beverly Hills with access to numerous Los Angeles businesses.
Élan Hotel offers 49 well-appointed hotel rooms and suites designed for ultimate comfort. Our Los Angeles hotel rooms feature plush bedding, contemporary décor, eco-friendly bath amenities, and complimentary Wi-Fi.
Guests enjoy a host of service-oriented amenities to enhance their stay at the Élan Hotel Los Angeles. Plan your day's activities over a delicious complimentary continental breakfast and discuss travel tips with other guests at our nightly wine reception. In addition, the complimentary Wi-Fi allows guests to freely surf the net while the contemporary meeting space is ideal for productive board meetings.
Thank Goodness it's Spring
Spring into Action
Spring has finally arrived, but don't let it stop you from making your summer plans now. You need more than just a few days to enjoy everything that the City of Angels has to offer, from the first class shopping and vibrant culture to endless dining and entertainment options. Stay three nights or more and save 20% off our Best Available Rates. C'mon, don't be shy. Stay as long as you desire. We don't mind!
This package includes:
Overnight accommodations in an Executive King Room
Complimentary Expanded Continental Breakfast
Complimentary Nightly Wine and Cheese Reception
Complimentary Wi-Fi
Nightly turndown service
We're Throwin' in Parking!
Do you feel like throwing in the towel when you have to empty your wallet each time you park in L.A.? Book our Parking package now and enjoy a great room, a wonderful stay, and unlimited valet parking. Doesn't get much better than that!
This package includes:
Overnight accommodations in an Executive King Room
Valet Parking
Complimentary Expanded Continental Breakfast
Complimentary Nightly Wine and Cheese Reception
Complimentary Wi-Fi
Nightly turndown service
gaytravel.com Visits Elan Hotel!
The Inside Scoop on Elan Hotel from gaytravel.com
Here's your vocab word for the week: élan. Élan means "a combination of style and vigour." It shouldn't come as a surprise on how the Élan Hotel got decided upon a name. The Elan Hotel reflects style and grace in every aspect and their friendly staff eagerly awaits your arrival.



Oscar, who works at the front desk, is the definition of hospitable.


If you're staying at the Élan Hotel, then you should be prepared for the excellent service that's sure to follow. Recently, Nicole, a gaytravel.com staff member stayed and only had wonderful things to say about this gorgeous hotel! Throughout the year, she travels often, forcing her to stay in many hotels, and this was one of her favorites in the Los Angeles area by far. As soon as you step foot into the lobby, you'll understand why Trip Advisor ranked them fifth out of 300 hotels in the Los Angeles area –they're spectacular.
The Elan Hotel is a boutique style hotel with a very gay friendly staff, being located within 2 miles of the heart of West Hollywood, as well as the Sunset Strip. From the moment you arrive, the front desk is smiling and welcomes you warmly. They're very helpful with any questions you may have and double as wonderful conceirges who are full of unique ideas that are one-of-a-kind experiences in Los Angeles and direct you to the 'must-see's' of the city.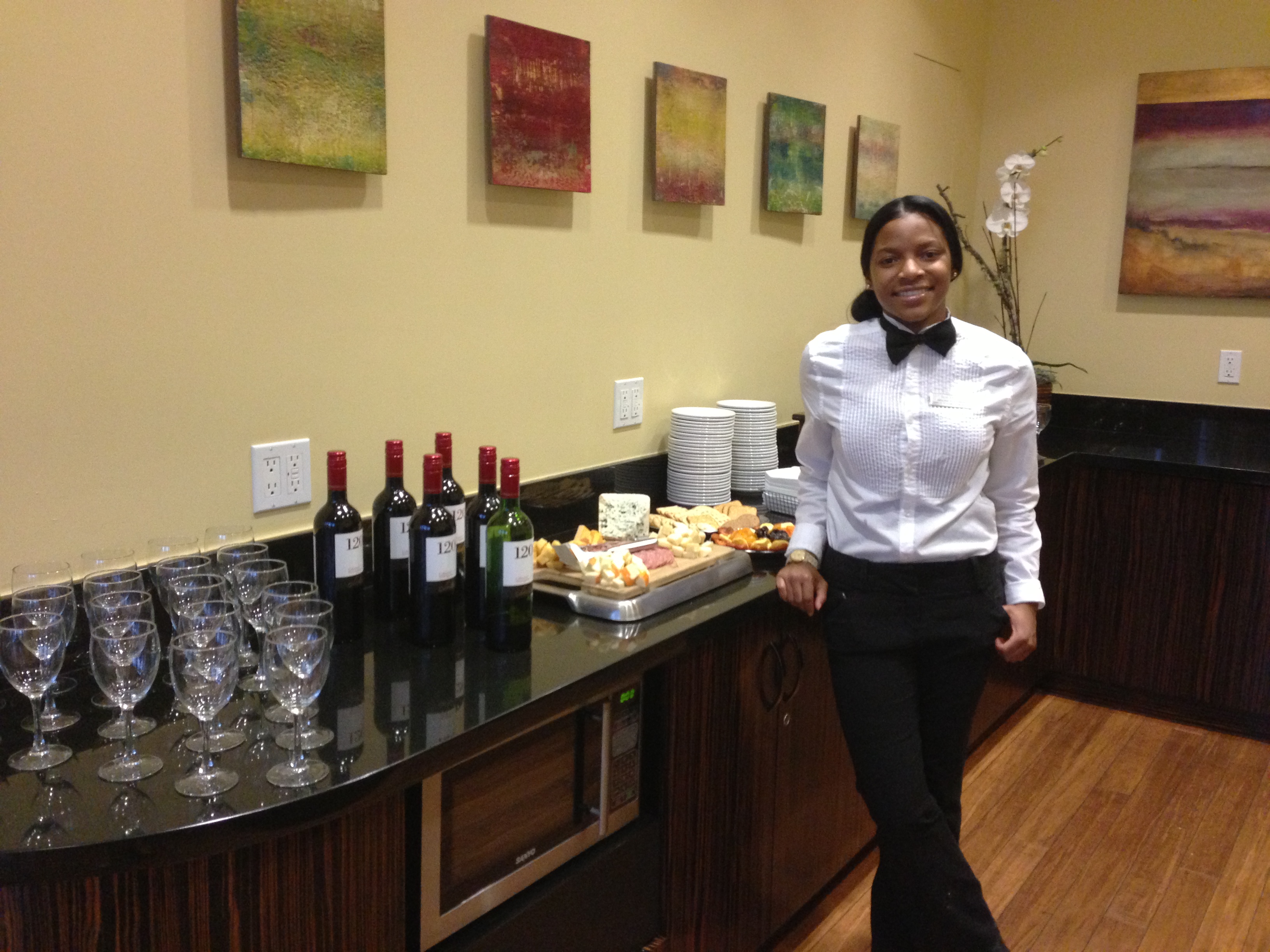 Arione is a delightful server for the nightly, complimentary wine and cheese reception. One of Nicole's favorite amenities of the hotel.

They have a complimentary nightly cheese and wine reception too. Arione, the wine server, was more than friendly. The Director of Sales, Dennis, and the General Manager, Joel, were also present, mingling and getting to know the guests on a personal basis. We think that is an important aspect to appreciate because it communicates to the guests just involved entire staff is to ensuring you have a perfect stay in their hotel. They had some great wine available and the cheese and fruit trays were more than filling. Don't over indulge though because they are located in a hot spot for shops and restaurants. You'll want to get out and experience the neighborhood while staying at the Élan Hotel, and you can certainly take a cab to the nightlife on the Sunset Strip and nearby West Hollywood for an affordable rate.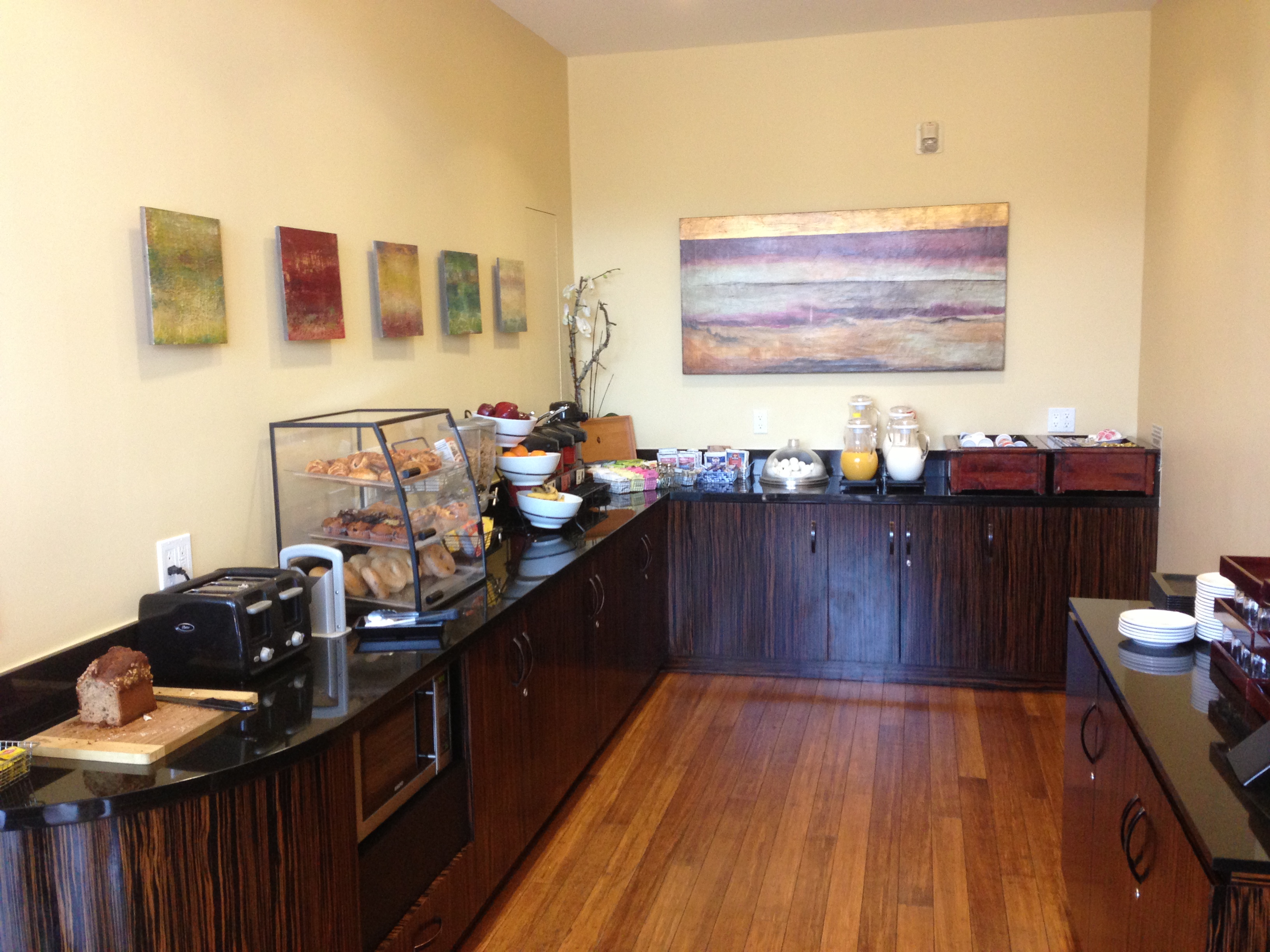 A complimentary breakfast is served every morning.

From the top-notch staff who are known in the area and who have a great rapport with the surrounding eateries, to the fast-paced valet service; it's a great place to escape to when you want the more intimate setting of a smaller hotel but still desire the luxury of a more lavish property. Plus it's in a perfect location! We at gaytravel.com loved the Élan Hotel, and we know you will too!
Amenities at a Glance:
Management Info:
Gay friendly
Clientele:
Mixed Gay/Straight
In Room Facilities/Services:
Internet Access
Laundry Service

On Property Facilities/Services:
Room Service
Catering

Complimentary:
Breakfast
Snacks
Commitment Ceremony Planning / Hosting:
Call for Information
Location:
111910
Children Welcome:
Yes
Pets Allowed:
No
Reservations:
Call for Information
Want to Book?
Call Us Now — 866-203-2212
Disclaimer: Every travel supplier on gaytravel.com has separate terms and conditions on their websites that will apply to your reservation and purchase of travel- related goods and services that you select. You hereby agree to read and abide by those terms and conditions. We are not responsible to you or anyone else for any loss, damage, liability, cost or expense suffered in connection with the use of gaytravel.com or any content on the site. Our site is provided 'as is'. We make no warranties or representations about the site or its content and exclude, to the maximum extent permitted by law, any liability which may arise as a result of their use. We will never be liable for any indirect, incidental, special or consequential loss, or loss of profits or revenue arising out of the use of the site. You indemnify us against each claim, action, proceeding, judgment, damage, loss, expense or liability incurred or suffered by, or brought, made or recovered against us in connection with any breach by you of these terms.