Prime Oceanfront Location on Banderas Bay
Experience unparalleled travels at Marriott Puerto Vallarta Resort & Spa. Snorkel, swim and kayak in the blue waters just steps from the hotel near downtown. The resort is within walking distance of Marina Vallarta Golf Club and a short drive from International Convention Center Puerto Vallarta.
At Marriott Puerto Vallarta Resort & Spa, expect nothing short of an extraordinary stay.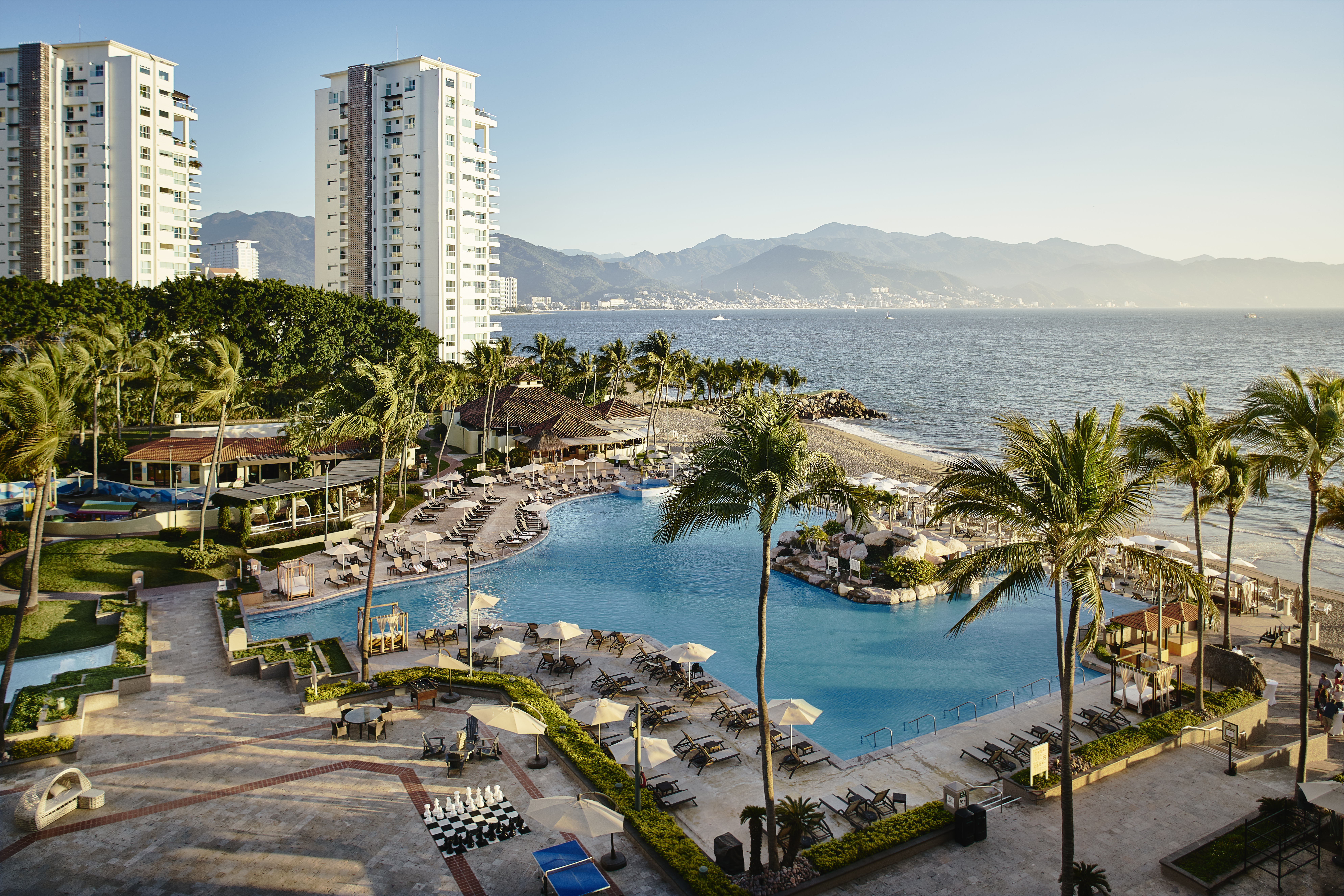 ROOMS & SUITES
Encounter a restful stay in the modern rooms and suites featuring luxurious bedding, stunning views and 24-hour room service.
OHTLI SPA
Whenever you desire a pamper session, Ohtli Spa offers rejuvenating massages and facials. Reflecting the Huichol culture, Ohtli Spa blends contemporary techniques and treatments with ancient healing traditions to melt stress away.
WEDDINGS
Marriott Puerto Vallarta Resort & Spa hosts a variety of weddings, from cultural to LGBTQ, in their customizable venues. Celebrate your reception with the stunning beach as your backdrop.The helpful planners will ensure that every aspect of your destination wedding is absolutely perfect!
RESORT ACTIVITIES
Discover countless things to do at the resort, from sunbathing on the beach to relaxing at the spa. Experience the definition of relaxation at this beachfront resort. From the large infinity pool and expansive spa to delightful culinary options and kid-friendly activities, the resort amenities and Puerto Vallarta location create a destination with something for everyone.
Marriott Puerto Vallarta Resort & Spa was designed with a foodie in mind. Take your pick of authentic Mexican cuisine, fresh seafood, handcrafted cocktails and more.
La Estancia – A la carte and buffet with live stations for breakfast; Mexican and International dishes and Surf & Turf buffet for dinner.
Mikado – Japanese, Thai and sushi dinner selections. Open daily from 6:00 to 11:00 pm Early Bird Special: 30 percent off, 6:00 to 7:00
Las Casitas – Beachfront restaurant and grill serves fresh salads, seafood and steaks. Open daily from 8:00am to 12:00pm
Champions Sports Bar – American cuisine and a Video Wall of HD screens. Open from 11:00 am to 2:00 am Early Bird Special: 30 percent off from 1:00 to 5:00 pm; Happy Hour: 2 for 1 drinks, 8:00 to 9:00 pm, Monday through Friday.
Deli Los Mangos – Sandwiches, pizza, salads, coffee, ice cream and more.
Lobby Ceviche & Tequila Bar – Tequilas, cocktails and ceviches.
24-Hour Room Service - 20 percent discount from 5:00 to 7:00 pm, Monday through Friday.
Enjoy the privileged location to explore upscale shopping and unique dining options in Marina Vallarta or visit downtown Puerto Vallarta, only 15 minutes away. From taking photos along the boardwalk to indulging yourself with the area's expansive gastronomical offering, the options are endless! Golfers can easily play a round at the Marina Vallarta Golf Club, just steps from the resort.
Amenities at a Glance:
Management Info:
Gay friendly
Clientele:
Mixed Gay/Straight
In Room Facilities/Services:
Coffee / Tea Pot
Internet Access
Laundry Service
Room Safe

On Property Facilities/Services:
Meeting Rooms
Bar
Restaurant
Room Service
Catering
Gym
Celebration Planning
Hot Tub(s)
Swimming Pool(s)
Concierge

Commitment Ceremony Planning / Hosting:
Yes
Location:

Children Welcome:
Yes
Pets Allowed:
Call for Information
Reservations:
Recommended
Want to Book?
Call Us Now — +52 322 226 0000
Disclaimer: Every travel supplier on gaytravel.com has separate terms and conditions on their websites that will apply to your reservation and purchase of travel- related goods and services that you select. You hereby agree to read and abide by those terms and conditions. We are not responsible to you or anyone else for any loss, damage, liability, cost or expense suffered in connection with the use of gaytravel.com or any content on the site. Our site is provided 'as is'. We make no warranties or representations about the site or its content and exclude, to the maximum extent permitted by law, any liability which may arise as a result of their use. We will never be liable for any indirect, incidental, special or consequential loss, or loss of profits or revenue arising out of the use of the site. You indemnify us against each claim, action, proceeding, judgment, damage, loss, expense or liability incurred or suffered by, or brought, made or recovered against us in connection with any breach by you of these terms.
Map