Director Roland Emmerich (Independence Day, Godzilla) might not be the first name that comes to mind when you think of the person most likely to make a movie about one of the defining moments of the gay civil rights movement, the Stonewall riots.
But Emmerich wanted to direct Stonewall as a passion project,— he even financed much of the film himself.
First, some history. Back in 1969, a group of gay activists (primarily trans women of color and lesbians) fought back against a police raid of the Stonewall Inn and are credited with being the first to bring light to police brutality against the LGBT community.
That's the way it happened in history. But for months, bloggers and activists have been taking the film to task for whitewashing the actual riots — Emmerich's film centers around a white teen from the Midwest named Danny (Jeremy Irvine), who is kicked out of his house and relocates to the West Village.
He appears to be at the center of the riots in Emmerich's film when, in fact, the Stonewall riots were largely led by trans women of color and lesbians. In this film adaptation, they're all relegated to co-starring roles.
Emmerich says he centered the film around the character of Danny because he needed mainstream audiences to have a character they could relate to. He says Danny is a character that he, as a director, could "somewhat relate to."
The director's attempts to clarify his reasons for "changing history", as many critics have charged, doesn't seem to be doing him any favors. In fact, the takeaway from his recent interviews among many is that Emmerich didn't think he could tell the story unless a white, gay man was at its center.
A proposed boycott of the film by the GSA Network is jut shy of 25,000 as of the writing of this article. And critics have given the film a pounding. It currently sits at an 8% approval rating on Rotten Tomatoes and Vanity Fair says it should have been called "Independence Gay," saying the film is "terrible offensive and offensively terrible."
The Stonewall Inn, where the stonewall riots took place, was made a city landmark earlier this year. It is still open for business more than 40 years later in New York's Greenwich Village. Click here for more info.
Stonewall opens in theaters in limited release Friday, Sept 25.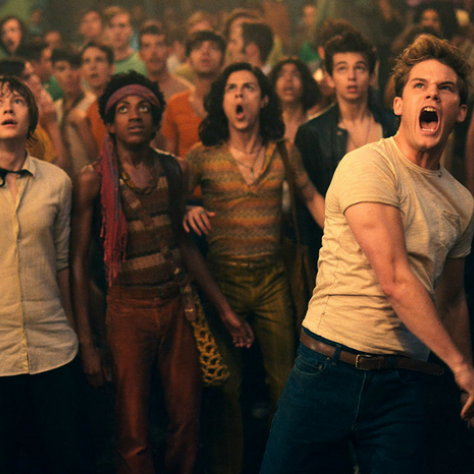 View More News Articles
Join the conversation
You Might Also Like