Wow, what a great city. After hearing a lot of good things about Tel Aviv from our friends, it was a place we'd wanted to visit for a long time. With a gay scene that competes with all gay capitals around the globe, an amazing beach, good weather, great food and other attractions in the country like Jerusalem and the Dead sea, Tel Aviv is definitely a place you should check out for your next trip.
Lets face it Israel is a controversial country and often in the news headlines. It's the centre and birthplace of many religions, and as you know religions cause conflict. A few people questioned us why we'd choose to travel to such a place. It had crossed our mind too, but that was purely down to naivety and not understanding the real Israel, after-all the country is in the Middle East and surrounded by many dodgy countries. Let's get one thing clear… Israel is perfectly safe and a joy to experience. Israelis are very open minded and welcoming.
There is a lot to take in, the history, the geometry and the religious cultures mixed with the spectacular beaches, architecture (old and new), friendly people and really good gay scene. It's a country that just loves peace and its government looks after its citizens very well. Understanding how it all works was very interesting and it began by the lovely young lady on the plane who was sitting next to us. She helped explain to us what Palestine was. "Basically it's several area's (states) with-in Israel that has been fenced off from the rest of the country. The Arabs who live there keep causing trouble with the Jews. Once the Arabs agree to peace the fences will be taken down."
From what I personally think, its religious nonsense that's just gone too far and very complicated to explain in full. All we can do is hope that one day humanity will put all religions into the history books. Life is precious; you only live once, so make the most of it. People should stop believing in myths made up 2000 years ago and believe in the truth of where humanity came from, that is evolution and Mother Nature. Just believe in scientific fact.
It's hard not to talk more about religion here because the whole thing is so vast and controversial. Instead I want to write and tell you about Tel Aviv. If you are interested in religion or fascinated why even in this day and age it's still so powerful and influential on people's lives, then Israel and particularly the city of Jerusalem is a great place to go and understand.
After arriving at our hotel we first booked a day trip to Jerusalem (one of the oldest cities in the world) and the Dead Sea. The following day our tour guide picked us up early in the morning. It took about 1½ hours to drive to Jerusalem. To see the ancient city with all its history, sights and attractions was amazing. First we stopped on a hill overlooking the city taking in the skyline that was dominated by the massive gold dome of Temple Mount. Other things that were interesting to see were the Wailing Wall, Mount of Olives, Tower of David museum, the different religious quarters, Yad Vashem Holocaust Memorial and the Church of the Holy Sepulchre.
We spent a good half day looking around the city, although we could have stayed longer. It was time to continue on to the Dead Sea. This drive was less than an hour through the desert where you descend to 423 meters below sea level, the planets lowest land elevation.
The Dead Sea is a wonder of nature, it's extremely salty, so much that it makes you float on the surface, you feel like an inflatable balloon, impossible to drown! It's a strange experience bobbing about in the water, but YIKES… don't get the water in your eye, it stings like crazy! The black mud along the banks of the Dead Sea is great for the skin, leaving it feeling baby soft. The mud is baked onto you by the hot sun and if you're not carful you'll turn into a clay statue!
Our second day in Israel was spent exploring Tel Aviv. The best way to do this is via the network of bike hire stations across the city, it's cheap, green and great fun. Admittedly its usage instructions are not that easy at first, but once you've mastered it, the system is brilliant. I couldn't recommend this enough, there are bike hire stations dotted about all over the place and it makes it a great adventure reading the map, tracking them down. Plus they are free to use for the first 30 minutes of each ride, so it costs basically nothing.
Tel Aviv is a big city with lots of interesting things to see and do. Here's a list of places that should be on your list:
Jaffa – The oldest part of Tel Aviv. The port there is said to be 4000 years old. Quite cobbled streets wind around ancient buildings and quirky shops, cafes and restaurants serving freshly caught fish. There's an amphitheater with spectacular views of the sea and Tel Aviv sky line. Also check out the famous Clock Tower and Flea Market.
Neve Tzedek – Built back in 1880's its one of the most beautiful neighborhoods of Tel Aviv, just outside the Jaffa walls. Stroll around the unique, colourful architecture of the old buildings and cobbled streets. Make sure you visit the Suzanne Dallal Center for dance and theater.
Rothschild Boulevard and Shenkin Street – Trendy shopping, coffee shops and milling around checking out the sites, people, entertainment and architecture. These area's also have many gay establishments, although its good to let you know that Tel Aviv doesn't have a gay area, venues are spread out far and wide across the city.
HaCarmel Market – Located in the heart of Tel Aviv it offers a lively, colourful shopping experience with plenty of hustling and bustling from the traders.
Nachlat Binyamin – The art and craft fair is the biggest of its kind in Israel, full of hand made products sold by the artists themselves. Experience street performances, live music, beautiful buildings, coffee shops and unique hand made creations and designs.
Dizengoff Centre – A large shopping mall buzzing with excitement and entertainment. Browse a huge variety of shops for clothing, food and gifts.
Hayarkon Park – if you looking to chill out and get some peace and quite, jump on a bicycle and ride along the Yarkon River and its surrounding Hayarkon Park. The park includes botanical gardens, lakes, a zoo, a water park and two outdoors concert venues.
Beach – Without doubt the best thing about Tel Aviv are the miles of beautiful sandy beaches, swimming in the Mediterranean and walking from one beach to next along the promenade. We had some good times on Gordon Beach and Jerusalem Beach. You'll be meeting gays on most of the beaches but the official gay beach is located opposite the Hilton hotel under the cliffs of Independance Park (a popular cruising spot). Just look for all the hot men in speedos. If you like the nudist scene then head over to Ga'ash Beach that's about 30 minutes drive north of the city.

Author: Chris Geary
Source: ChrisGeary.co.uk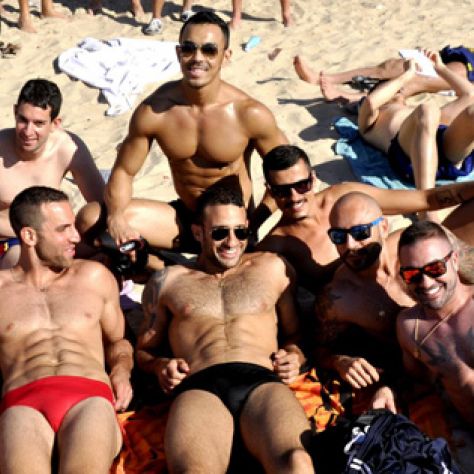 Join the conversation